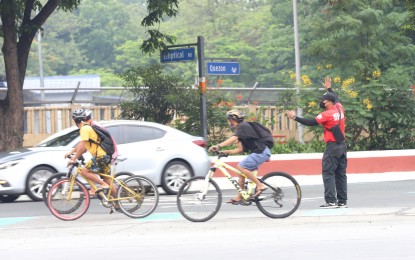 MANILA – The Department of Transportation (DOTr) wants more students and workers in the education sector to cycle to schools and has asked relevant government agencies to build bike racks, showers, and other related infrastructure on campus.
In a media bulletin on Wednesday, DOTr Secretary Jaime Bautista asked the Department of Education (DepEd) and the Commission on Higher Education (CHED) to direct primary, secondary, and tertiary educational institutions to build these "end-of-trip (EoT)" facilities.
"The establishment of the EoT facilities, which include parking spaces for bicycles -- sheds, bike racks, as well as showers, will encourage students, teachers, and other school personnel to use existing bicycle lanes," Bautista said.
Under the DOTr's Department Order No. 2020-014, children up to 15 years of age are allowed to use bike lanes on national and primary roads as long as they are accompanied by an adult cyclist.
By building EoT facilities, he said cycling becomes one of the primary transport options for students, teachers, and other staff.
To boost safety of cyclists, especially those around schools, he asked the Department of the Interior and Local Government (DILG), the Metropolitan Manila Development Authority (MMDA), and the Land Transportation Office (LTO) to deploy additional traffic enforcers and marshals at school zones.
On Tuesday, MMDA Task Force Special Operations (TFSO) chief Edison "Bong" Nebrija said a total of 581 traffic enforcers will be deployed to man traffic and ensure the safety of students in 146 public schools across Metro Manila.
In addition to ensuring the safety of students, he said these enforcers will also clear pedestrian lanes, "yellow boxes," and sidewalks of obstructions to ensure a smooth flow of both foot and vehicular traffic. (PNA)