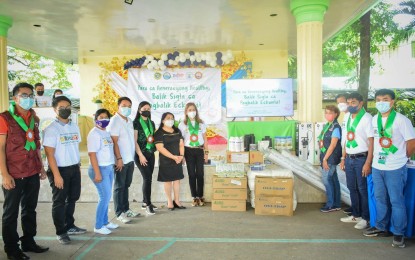 MANILA – The Department of Health-Center for Health Development (DOH-CHD) Calabarzon (Cavite, Laguna Batangas, Rizal, Quezon) on Tuesday launched a program in Laguna aimed at ensuring the safety and welfare of students for the upcoming opening of classes on Aug. 22.
"It is important that we ensure that students return to school safely, just like the teachers, we are passionately committed to this campaign of making sure that the schools are ready and dengue-free," DOH-Calabarzon Assistant Regional Director Leda Hernandez told the media during the school-based launch of "Para sa Henerasyong Healthy, Balik Sigla sa Pagbalik Eskwela" at San Ramon Elementary School in Calamba City.
The campaign highlighted the school-based Dengue Awareness Campaign with 4S strategy (Search and destroy breeding places, Secure self-protection, seek early consultation, and Support fogging/spraying in hotspot areas), turnover of anti-dengue and other vector control supplies; ceremonial installation of Olyset nets and the mini gallery, showcasing the seven healthy habits, Covid-19 vaccination and "Konsultayo" campaigns of the DOH.
Based on the data from the Regional Epidemiology and Surveillance Unit, from Jan.1 to Aug. 13, 2022, a total of 10,833 cases of dengue have been recorded in Calabarzon with 18 deaths.
The number is 114 percent higher compared to the 5,054 cases during the same period last year. The three provinces with the most number of cases are Laguna with 3,414 cases; Rizal - 2,328; and Cavite - 1,827.
Meanwhile, apart from "Para sa Henerasyong Healthy, Balik Sigla sa Pagbalik Eskwela" which is the highlight of the activity, the DOH-Calabarzon launched the "Sa Booster Pinaslakas" campaign in school-based vaccination.
Together with the representatives from Department of Education, City Government of Calamba and private organizations, Hernandez witnessed the ceremonial vaccination for students aged 5-11 years old. (PR)