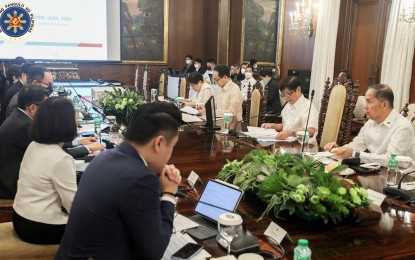 MANILA – The Private Sector Advisory Council (PSAC) has requested President Ferdinand "Bongbong" Marcos to expand the Micro, Small, and Medium Enterprises (MSMEs) in the country to create more employment for Filipinos.
This was brought up during their recent meeting with Marcos in Malacañang Palace.
The Office of the President (OP) shared photos of the meeting on its official Facebook page on Thursday.
"President Ferdinand Romualdez Marcos Jr. meets with the esteemed members of the Private Sector Advisory Council (PSAC) to discuss plans on creating more jobs in the country," the OP said in its post.
"Some of PSAC's recommendations are to scale up Micro, Small, and Medium Enterprises, attract more investors and build skills that would allow our workforce for longer-term competitiveness," it added.
MSMEs generated a total of 5,380,815 jobs or 62.66 percent of the country's total employment, according to data from the Department of Trade and Industry.
By industry sector, MSMEs in the wholesale and retail trade; repair of motor vehicles and motorcycles sector generated the most number of jobs with 1,941,115 followed by accommodation and food service activities (775,120), manufacturing (732,030), financial and insurance activities (306,283), and education (295,789).
Aside from increasing MSMEs, Private Sector Advisory Council (PSAC) Job sector member and Alliance Global Group president and CEO Kevin Tan said they also proposed identifying labor-intensive industry segments, attracting more investors by making it easier for them to do business, making labor regulations more flexible, and building skills for short-term productivity and long-term competitiveness.
"It was a successful and productive meeting with my co-members at the Private Sector Advisory Council," Tan said in a Facebook post.
He said his company is committed to supporting the government in creating more jobs for Filipinos.
"I am looking forward to our next Council discussions and come (up) with plans together with the administration in its first 100 days," Tan added.
Last week, Marcos also met with the PSAC to express his support for the proposal to offer a "ladderized" program for nurses.
Under the program, the University of the Philippines (UP)-Manila will offer a two-year scholarship for midwives who come back to the community to serve upon course completion. Once they gain experience, they return to UP Manila to study nursing for another two years.
The PSAC aims to "regularly report to the President to provide feedback on what is happening on the ground and will make recommendations on modern policy development." (PNA)