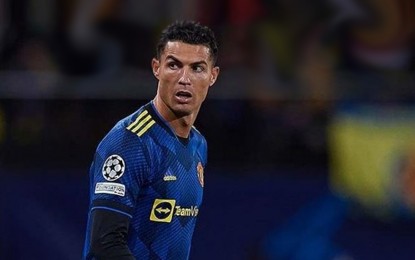 ANKARA – Cristiano Ronaldo received a warning from local police after footage showed him slapping the phone out of a fan's hand earlier this year, authorities said on Wednesday.
According to a statement by the Merseyside Police reported by news outlets, the Portuguese star received the warning after an investigation into footage that emerged of him appearing to strike an Everton fan's phone out of his hand during United's 1-0 Premier League loss to the club in April.
Footage that spread on social media showed Ronaldo making his way off the pitch through the tunnel with fans on either side of the railing.
It then appeared to show him slapping the hand of the young fan holding a cell phone.
After the incident, Ronaldo posted a public apology on Instagram.
"It's never easy to deal with emotions in difficult moments such as the one we are facing. Nevertheless, we always have to be respectful, patient and set the example for all the youngsters who love the beautiful game," the Manchester United forward wrote.
"I would like to apologize for my outburst and, if possible, I would like to invite this supporter to watch a game at Old Trafford as a sign of fair-play and sportsmanship."
Ronaldo, who has a historic career and holds five Ballon d'Or awards, joined Manchester United in August 2021 from Juventus.
He has 24 goals and three assists in 40 games in his second era with the Red Devils. (Anadolu)