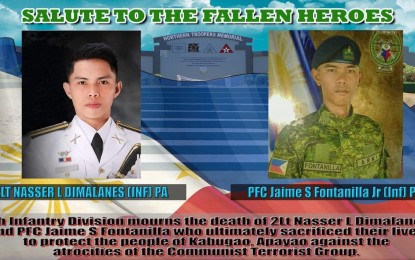 CAMP MELCHOR DELA CRUZ, Gamu, Isabela – Two Army soldiers died on Thursday in a running gunbattle between the soldiers and communist guerrillas in the mountains of Lenneng in Kabugao town, Apayao province, the military reported.
Captain Rigor Pamittan, 5th Infantry Division public affairs chief and spokesperson, identified the fatalities as 2nd Lt. Nasser Dimalanes of Maguindanao, and Private First Class Jaime Fontanilla Jr. of La Union.
Dimalanes, a 28-year-old native of Datu Odin Sinsuat in Maguindanao Province, practices Islam religion and was commissioned on November 16, 2017 as a regular soldier. He was assigned as the Platoon Leader of Bravo Company of the 98th Infantry Battalion in Apayao. He was a Reserved Officer Training Course product who entered the military service under the officer preparatory course.
Fontanilla, a 29-year–old native of Luna town, La Union entered the military service on July 21, 2018 and was first assigned at the Headquarters Service Battalion of the 5th Infantry Division. He was first deployed at the 54th Infantry Battalion and later at the 98th Infantry Battalion.
The Army soldiers chanced upon the 30-member communist guerrillas operating along the Apayao-Abra area of the Cordillera in a combat patrol following tips from villagers that armed men have been spotted in Lenneng village.
"We mourn the death of our fallen comrades who have sacrificed their lives in order to save the people of Kabugao," said Lt .Col. Abraham Gallangi Jr., 98th Infantry Battalion Commander, on Friday.
"We will not put into waste the sacrifice rendered by our comrades. We will pursue those members of the (New People's Army rebels) to let them pay the consequences of their inhumane actions," Gallangi added.
The Communist Party of the Philippines - NPA is listed as a terrorist organization by the United States, the European Union, the United Kingdom, Australia, Canada, New Zealand, and the Philippines.

The National Democratic Front has been formally designated as a terrorist organization by the Anti-Terrorism Council on June 23, 2021, citing it as "an integral and inseparable part" of the CPP-NPA created in April 1973. (PNA)