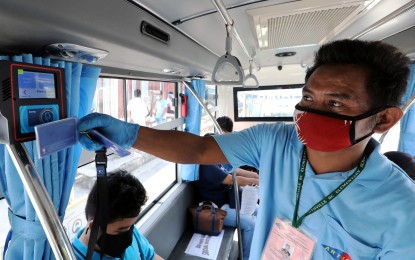 MANILA – The Department of Transportation (DOTr) has asked public transport operators (PTO) to get ready for a looming shortage of Beep cards, a stored value card (SVC) supplied by AF Payments Inc. (AFPI) and used in most trains and some buses in Metro Manila.
In a media bulletin on Friday, the DOTr said the looming shortage is caused by global chip supply chain problems and the expected increase in demand with the return of face-to-face classes.
"Measures are in place to address the shortage and meet the demand of commuters for contactless cards even as the DOTr and its Beep card provider continue to look for alternative ways such as the use of single journey tickets," it said.
It asked existing Beep cardholders to take care of their SVCs and directed all PTOs to "make the necessary adjustments" in controlling the sale of SVCs, allay the fears of commuters, and "exert their best efforts" in communicating such issues to their passengers.
In a letter addressed to the Light Rail Transit (LRT)-1, LRT-2, and the Metro Rail Transit (MRT)-3, DOTr Undersecretary for Rails Cesar Chavez added that such a shortage occurred due to the limited access to special gases from Russia to manufacture NXP chips, the "lingering repercussions" of the coronavirus pandemic in major manufacturing hubs such as in China, and the increased shipment and logistics costs that are contributing to the shortage of SVCs.
In June, the AFPI said a total of 8.5 million Beep cards have so far been issued making up PHP32.8 billion worth of transactions processed through its automated fare collection system.
Aside from the three rail lines and some provincial buses, Beep cards are also used in modern jeepneys, ferries, tollways, and some retail establishments. (PNA)