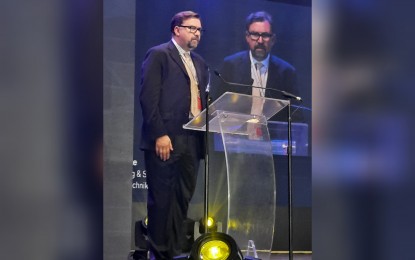 MANILA – As Lufthansa Technik Philippines (LTP) has reached its maximum capacity in its facility in Metro Manila, the leading provider of aircraft maintenance, repair, and overhaul (MRO) services is looking forward to expanding in other parts of the country.
The LTP launched on Friday evening the newly built Hangar 1A at the MacroAsia Special Economic Zone in Villamor Airbase, Pasay City.
"Here in NAIA (Ninoy Aquino International Airport), like we have no possibility anymore to expand. So we have to, at one point, make a step out," LTP vice president for marketing and sales Rainer Janke told reporters on the sidelines of the launch.
Although he did not yet disclose the location for LTP's future expansion, Janke said the Clark Special Economic Zone is "very attractive" for this kind of investment.
"We also have a small facility in Cebu," he added.
Janke said LTP's expansion in the future might involve servicing different aircraft.
In its existing facilities, LTP is providing MRO services to Airbus aircraft A320, A321, A330, A340, even up to A380, as well as Boeing 777.
"(Boeing) 737, the narrow body will follow," he added.
Janke said LTP spent USD25 million for the expansion of Hangar 1A, higher than its initial investment of USD20 million.
In a press conference last year, LTP president Elmar Lutter said the company is also spending another USD20 million on the tools and auxiliary of the facility.
In total, LTP is investing USD45 million for the expansion in its NAIA facility.
"We want to be there when the market is coming back, and that's at the moment," Janke said.
He said they have seen the recovery of the industry since August last year, mostly from clients in Europe and the Middle East, but not much from the Asia Pacific.
He noted that the easing of travel restrictions across the world has been fueling the increase in demand for MRO services.
"This is what we see now, after travel restrictions have eased, and that's encouraging airlines to reactivate aircraft. And the aircraft have been parked for the last one-and-a-half or two years, they all need maintenance," Janke said.
He said LTP remains optimistic about the recovery of the aviation industry despite the higher fuel prices and inflation because people want to travel after two years of being in a pandemic.
Among the airlines that LTP's Philippines' facility is servicing are Philippine Airlines, British Airways, Korean Airlines, Asiana, Qantas, and Lufthansa, as well as low-cost carriers in the region, among them Cebu Pacific, Indigo of India, Jetstar Japan, and VietJet of Vietnam. (PNA)