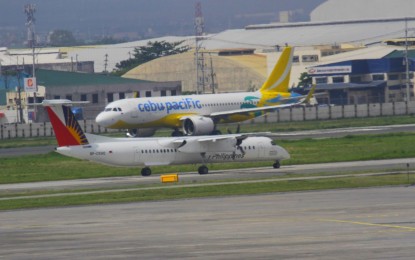 MANILA – At least six flights between Manila and Bicol Region were canceled as of 2 p.m. Monday, the Manila International Airport Authority (MIAA) reported.
These flights were CebGo (DG) 6111/6112, DG 6117/6118 Manila-Naga-Manila, and PAL Express (2P) 2919/2920 Manila-Legazpi-Manila.
Based on PAL's website, four of its flights between the Ninoy Aquino International Airport and the Bicol International Airport scheduled from 6 a.m. to 11:30 a.m. have pushed through.
Weather disturbance "Florita" intensified into a tropical storm on Monday, and was last tracked 215 kilometers east of Casiguran, Aurora.
At 12 noon, the weather bureau said heavy rainfall prevails over Albay and Sorsogon. Light to moderate with occasional heavy rains were also forecast over Camarines Norte, Camarines Sur and Catanduanes.
"Florita" is projected to make landfall in the vicinity of the east coast of Cagayan or northern Isabela on Tuesday. (PNA)