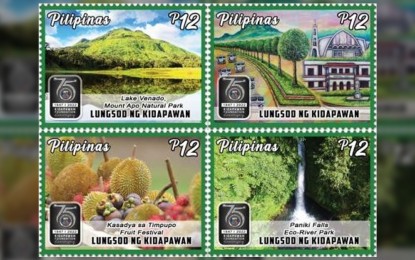 MANILA – In observance of the 75th founding anniversary of Kidapawan, the Philippine Postal Corporation (PHLPost) recently released special commemorative stamps to highlight the North Cotabato city's rich cultural, historical and eco-tourism contribution.
Kidapawan was established as a municipality on Aug. 18, 1947 by virtue of President Manuel Roxas' Executive Order No. 82. It became a city on Feb. 12, 1998 under Republic Act No. 8500 of President Fidel V. Ramos.
Featured in the Kidapawan City 75th Anniversary Commemorative Stamps are the Lake Venado in Mount Apo Natural Park, Paniki Falls Eco-River Park, Kasadya sa Timpupo Fruit Festival, and an illustration of Lungsod ng Kidapawan featuring the municipal hall, and the Kidapawan Cathedral with the 75th founding anniversary logo, according to a PHLPost news release on Monday.
The same logo fronts the official cover with the city seal, under the theme Luntian Kidapawan (Green Kidapawan).
The stamps were designed by Emmanuel Diaz of the Kidapawan City Tourism and Cultural Office and the layout executed by PHLPost in-house graphic artist Eunice Beatrix Dabu.
This is the first time that postage stamps were issued to commemorate the Kidapawan foundation anniversary.
On July 28, Malacañang issued Proclamation No. 26, signed by Executive Secretary Victor Rodriguez, that declared August 18 as a special non-working holiday in the city as "it is fitting and proper that the people of Kidapawan be given full opportunity to celebrate and participate in the occasion with appropriate ceremonies, subject to the public health measures of the national government."
Some 50,000 copies of the commemorative stamps and official First Day Covers are being sold at PHP12 each at the Manila Central Post Office in Liwasang Bonifacio. (PR)