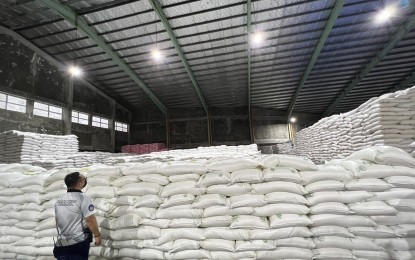 MANILA – The Bureau of Customs (BOC) has discovered thousands sacks of rice and sugar worth PHP232 million in two warehouses in Caloocan City.
In a statement, Commissioner Yogi Filemon Ruiz said the operation unraveled 66,000 sacks of rice and 13,000 sacks of sugar -- all 50 kilos each -- in the warehouses located in a compound at 448 Kabatuhan St., Deparo Road, Barangay 168, Caloocan City on Monday.
The items originated from Thailand and Vietnam
The inspection was implemented upon presenting a Letter of Authority (LOA) and Mission Order (MO) issued and signed by the Customs chief.
The LOA and MO were issued against the owner, representative, or whoever is in possession of the "imported goods" in the storage.
"We are very proud of these recent operations -- the ones in Bulacan, Pampanga, Pangasinan, Manila, Batangas, and Davao. It proves how serious we are in getting at the bottom of the issue of hoarding agricultural products, like rice and sugar," Ruiz said in a statement.
"We are aware of how these could affect our farmers, our markets, the people. The inspections we've been doing are aimed at stopping this abuse," he added.
On the other hand, Customs Intelligence and Investigation Division (CIIS) Director Jeoffrey Tacio said an inventory by assigned Customs examiners will start on Tuesday (Aug. 23).
The entrance and exit gates of both warehouses have been temporarily sealed, which was witnessed by CIIS, Enforcement Security Service (ESS), and representatives of the owner of the warehouses.
He assured that "proper coordination" with the barangay and local police were made before the joint team from Customs and military intelligence agents proceeded to the location and explained the purpose and provisions of LOA to the warehouse representatives.
Barangay personnel and local police were also with the Customs and military agents during the operation.
"The team that inspected the warehouse found thousands of sacks of rice and sugar. They also found alcohol, packaging materials, chips, cocoa powders, and many other imported goods," said the BOC official.
The warehouse owners and/or representatives will be given 15 days to present the proper documents for the imported products and agricultural goods found in the compound.
The operation is in line with the Customs' visitorial power to inspect warehouses it believed could be hoarding sugar. (PNA)