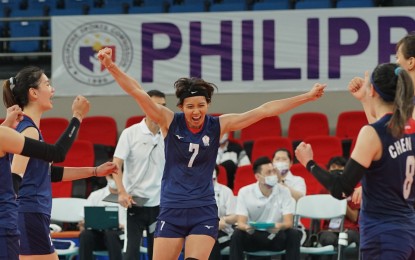 MANILA – Chinese Taipei survived a grueling match against Australia on Tuesday to post its first victory in the preliminary round of the Asian Volleyball Confederation (AVC) Cup for Women at the PhilSports Arena in Pasig City.
Middle blocker Kan Ho-Kui scored 18 points while captain Chang Li-Wen and Chen Tzu-Ya chipped in 15 and 12 points, respectively as Chinese Taipei prevailed, 3-2 (23-25, 25-22, 25-27, 25-21, 15-6) after two hours and 35 minutes.
Australia, banking on the brilliant performances of Caitlin Tipping, Rebecca Redgen and Stefanie Weiler, fought hard to keep the momentum on its side after taking a 2-1 lead.
But Chinese Taipei rallied behind Lin Shu-Ho, Liu Shuang-Ling Kan and Kan Ko-Hui to take the fourth set and played steadier in the fifth set.
"In the first set, our service was not very strong so they can have a good reception. Our target was to improve our service, in the fourth and fifth set, it was better," said Chang Li-Wen during the post-match interview.
Chinese Taipei now has a 1-1 win-loss record and is tied with Thailand for second place in Pool B behind Japan, which has two wins.
Australia, on the other hand, absorbed its second straight loss after bowing to Thailand, 3-0, last Monday.
Tipping led the Aussies with 23 attacks and five blocks. Redgen scored 11 points and Weiler finished with 10 attacks and five blocks. (PNA)