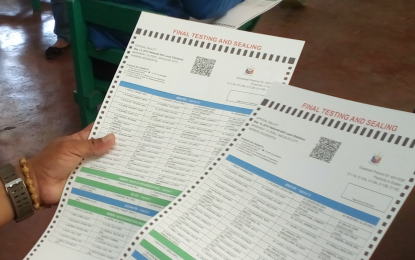 MANILA – The Senate will decide on whether or not the Barangay and Sangguniang Kabataan Elections (BSKE) would push through on December 5 after receiving the budget requirements of the Commission on Elections (Comelec).
The Comelec will submit to the Senate a detailed breakdown of how it intends to spend the PHP8.5 billion fund for December 5.
The poll body will likewise make an estimated budget if the BSKE is postponed to December 2023, which was already approved by the House of Representatives, or May 2023, the date which the Comelec prefers.
During the joint organizational meeting on Tuesday conducted by the Senate committees on electoral reforms, local government, and finance, Comelec chairperson George Garcia said if the BSKE is moved to May 2023, the number of clustered precincts would rise to 230,415 with an estimated budgetary requirement of PHP17.093 billion.
If the polls are reset to December 2023, there would be 239,000 clustered precincts with an PHP18.441 billion estimated requirement.
"May projection po kami na (We have a projection that) we will be able to register at least 3 (million) to 5 million more SK and regular voters," Garcia said.
He explained that the budget includes the increase in the honoraria of poll workers, whose number is also projected to increase if the BSKE is postponed.
The estimated budget will decrease if the proposed measure to exempt the honoraria of poll workers from tax is passed into law, according to Garcia.
He said the BSKE would be conducted via a manual process, which he said is more complex than automated.
Senator Imee Marcos prefers the May 2023 reset as typhoons are becoming more frequent in December.
The law states that the term of office of local officials shall only be for three years, except for village and SK officials whose elections depend on Congress.
The House Committee on Suffrage and Electoral Reforms approved on August 16 a proposal to postpone the BSKE to Dec. 4, 2023.
Twelve voted in favor of the postponement to save money that could be diverted to financial aid for the poor and other more urgent programs.
Only two voted against the proposal.
The committee also approved the motion to set at three years the tenure of those elected in December 2023 and other elections thereafter. (PNA)