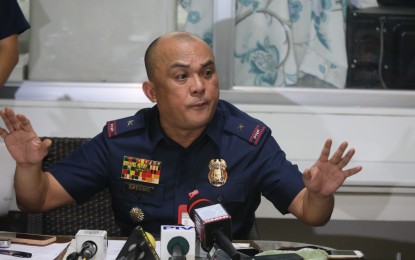 MANILA – A total of 176 erring police officers assigned to the National Capital Region Police Office (NCRPO) have been dismissed from the service from January 1 to August 23 this year, the region's top cop said Wednesday.
Citing the latest data, NCRPO chief Brig. Gen. Jonnel Estomo said they were dismissed for grave offenses ranging from dishonesty to gross neglect of duty, grave misconduct, conviction of a crime, and falsification of official documents, among others.
Estomo said penalties were also imposed on erring police personnel charged with less serious offenses, such as simple neglect of duty, simple misconduct, gross discourtesy in the course of official duties, insubordination, and habitual drunkenness.
As a result, 29 police officers were demoted, 476 were suspended, 141 had their salaries forfeited, and 76 were reprimanded.
Over the period, he said, 477 new administrative cases were submitted and documented, 265 of which had been resolved, while 212 are under evaluation.
Of the 265 resolved cases, 209 were categorized as grave offenses, 30 were classified as less grave offenses, and 26 were tagged as simple offenses.
Estomo has vowed to fight against corruption within the NCRPO system through the massive internal cleansing program being implemented by the Philippine National Police (PNP) to eliminate all erring cops and scalawags.
As part of efforts to achieve a zero backlog in administrative cases, he has ordered the reassignment of all lawyer police officers to the NCRPO's Discipline, Law and Order Division in Camp Bagong Diwa, Taguig City.
"The road to internal cleansing might be long but with the assistance and expertise of all these lawyers, the internal cleansing effort of the NCRPO will not be in vain," Estomo said.
Meanwhile, the Internal Affairs Service (IAS) of the PNP has taken an aggressive stance in handling and investigating police personnel who were slapped with administrative charges.
Working hand in hand with the IAS is the PNP Integrity Monitoring and Enforcement Group, whose functions include receiving complaints and information against erring personnel and conducting relevant information-gathering activities, detecting and conducting intelligence buildup on the involvement of PNP personnel in illegal activities, acts of graft and corruption, and other crimes for the conduct of prompt countermeasures, and initiating law enforcement operations against rogue cops. (PNA)