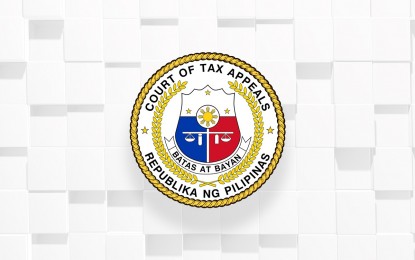 MANILA – The Court of Tax Appeals (CTA) has dismissed tax evasion charges against the owner of a Makati-based business that was one of the suppliers of the Philippine National Police (PNP) named in a scandal involving the fictitious repair of police light armored tanks 15 years ago.
In a 24-page decision dated August 22, the tax court rejected the complaint against Remedios de Juan Pensotes of RJP International Trading Construction and General Services.
The court said the charge of alleged willful failure to supply correct and accurate information in her income tax return (ITR) for 2007 had already been prescribed.
It said the information was filed by prosecutors only on March 1, 2019, or after more than six years and 10 months from the filing of the joint complaint affidavit by revenue investigators on April 26, 2012, way beyond the prescriptive period of five years under provisions of the tax code.
"Clearly, the filing of the instant criminal action against (the) accused had long (been) prescribed," the court said, adding the "right to file criminal action has prescribed (that the) accused's criminal liability is necessarily extinguished."
In 2012, Pensotes was named in the complaint by the past Run After Tax Evaders (RATE) program of the Bureau of Internal Revenue (BIR) after an investigation of retired PNP officials and private firms over the alleged overpricing of the repair of 28 light armored vehicles in 2007.
BIR records showed that Pensotes declared in 2007 sales and service revenues of PHP10.43 million and PHP400,000, respectively.
However, copies of the voucher and sales invoices submitted by the PNP disclosed that it made purchases from Pensotes worth PHP77.25 million during the year.
Pensotes thus underdeclared her sales and sales revenues for taxable year 2007 by PHP66.42 million.
The BIR said Pensotes underdeclared her sales, resulting in a lesser taxable income in her ITR and lower tax liability.
It was assessed a total deficiency income tax liability during the year amounting to PHP46.33 million, inclusive of surcharges and interests. (PNA)