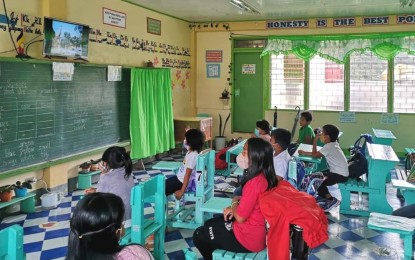 BAGUIO CITY – Four days into the start of classes, the Department of Education in the Cordillera Administrative Region (DepEd-CAR) on Thursday said school opening for the school year 2022-2023 in the region went smoothly with almost all of the 415,211 enrollees showing up on the first day.
Cyrille Gaye Miranda of the DepEd-CAR Public Affairs Office described the opening as "successful" without major problems.
She said 415,211 learners or 92.64 percent of the target 448,205 learner population from kindergarten to senior high school have enrolled in public and private schools in the region this year.
Benguet recorded 98.11 percent; Ifugao with 97.08 percent; Mountain Province with 93.81 percent; Baguio City with 92.89 percent; Apayao with 90.61 percent; Tabuk City with 87.34 percent; and Abra with 83.75 percent.
Some 2,570 students have enrolled under the Alternative Learning System (ALS).
Miranda said the DepEd's Regional Office on Wheels team also went around the schools to monitor the first day of classes.
Baguio City Schools Superintendent Federico Martin, in a media forum, said the July 27 earthquake in Northern Luzon caused damage to a number of schools, resulting in only five out of the 67 public elementary and high schools in the city being able to conduct daily in-person classes and the rest resorting to hybrid or blended learning.
He said the city's school board has already allotted funds for additional personnel and for the repair of classrooms.
"Our schools are coping because there is an increase in enrollment due to the closure of several private schools in the city, and their students either moved to another private school or a public school near them," Martin said.
He also assured parents that teachers and school personnel are continuously checking on the learners' compliance with basic health protocols. (PNA)