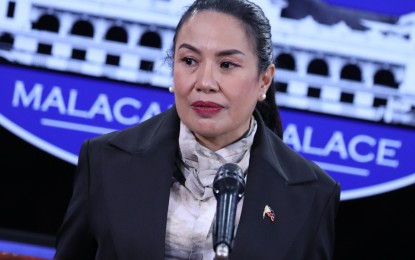 MANILA – Malacañang on Thursday announced that press freedom is guaranteed in the present administration and that the government will work closely with media organizations.
Press Secretary Trixie Cruz-Angeles, in a chance interview, said the Palace will ensure constant healthy dialogue especially during instances when the reportage is critical of the government.
Speaking after the oath-taking ceremony with newly elected officers of the National Press Club (NPC) in Malacañang, Cruz-Angeles reiterated President Ferdinand "Bongbong" Marcos Jr.'s vow that the government will ensure the rights of journalists in the country are upheld and protected.
"You're free to talk. We're not changing anything. Whatever freedom we have now will always be our freedom. Our Constitution guarantees that," she said.
Marcos has said time and again that he will be open to dissent and criticisms, especially those coming from the so-called fourth estate.
Sworn into office were Lydia Bueno (Remate, president); Kristina Maralit (Manila Times, vice president); Paul Gutierrez (People's Journal, secretary); Mina Navarro (Abante, treasurer); Leonel Abasola (PNA, auditor).
The Press Secretary said that proof of the President's support was when the Chief Executive himself administered the oath-taking of the newly elected officers of the National Press Club (NPC).
The NPC is one of the oldest and biggest media organizations in the Philippines.
Others inducted were NPC Directors Alvin Murcia (Daily Tribune), Aya Yupangco (DWIZ), Jean Fernando (Manila Bulletin), Nats Taboy (Remate), Madelynne Dominguez (Manila Bulletin), Jun Mendoza (Philippine Star); Jeany Lacorte (Abante), Benedict Abaygar (Manila Times), Bobby Ricohermoso (Saksi), and Joe Torres (UCA News). (PNA)