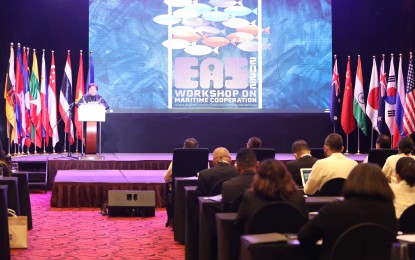 MANILA – The Philippine government on Tuesday called on stakeholders to take immediate, science-based actions toward a "sustainable, healthy, and clean oceans," citing the dire state of oceans due to marine pollution and climate change.
At the Manila-hosted 2022 East Asia Summit (EAS) Workshop on Maritime Cooperation, Foreign Affairs Undersecretary Ma. Theresa Lazaro outlined the need to strengthen scientific and technical cooperation to find "transformative" solutions to protect and preserve the marine environment.
"Although we face regional issues and global challenges such as this ongoing pandemic and the effects of climate change, the problems that our marine environment is facing is something that warrants urgent attention, especially because our EAS region is a global marine biodiversity hotspot," she said in a speech.
Citing reports, Lazaro said there would be more plastics than fish by 2050, while oceans would be overheated and acidified if people fail to act now.
She warned that not even non-coastal states would be spared if this "environmental tragedy" continues.
"Despite being landlocked, these countries would suffer from the long-term economic effects of the disruption of the global supply and value chains and the diminished flow of trade brought about by this projected environmental destruction," she said.
"From the Indo-Pacific region to the East Asia seas, all of us gathered around in this forum would bear the same consequences of our wanton neglect of our maritime resources and ecosystems," she added.
The three-day EAS Workshop on Maritime Cooperation: Technical and Scientific Cooperation Towards Clean, Healthy, and Sustainable Oceans will run from Aug. 30 to Sept. 1, 2022.
Discussions would also include a situationer on oceans in East Asia and the Indo-Pacific, habitat restoration, climate change adaptation, science-based policy making on marine sustainability, and solid waste and marine litter management, among others.
The workshop is an offshoot of the Manila Plan of Action to Advance the Phnom Penh Declaration on the EAS Development Initiative 2018-2022.
Delegates and experts from international organizations and 16 of the 18 EAS participating countries attended the forum.
"As we move forward to a new action plan for 2023-2027, we hope that this activity can serve as a strategic platform to further bolster our maritime cooperation in the region," Foreign Affairs Assistant Secretary for Asean Affairs Daniel Espiritu said.
Working with partners
As an archipelagic state, Espiritu said marine pollution, particularly the ever-growing microplastic waste is a "big" issue for the Philippines.
"Marine microplastics compose now almost 80 percent of the marine pollution around the world. Now, ang laki ng implication nito sa atin kasi nai-ingest ito ng fishes at marine life, and then nadi-disrupt 'yong life and reproduction nila (It has a huge implication because the fishes ingest them, disrupting their lives and reproduction), which of course, has a deep impact on the sustainability of our marine economy, especially the way we get sustenance from the sea," he said.
One of the delegates, Korean Embassy Consul General Lee Kyoo Ho said Seoul would continue to partner with the Philippines in addressing this issue and is in fact in the middle of building a marine litter-collecting ship for the country.
Lee said a USD7.7 million marine litter management initiative would be implemented by the Korea International Cooperation Agency in partnership with the Department of Environment and Natural Resources.
"Korea is already in the middle of constructing the ship," he told reporters on the sidelines of the workshop.
"[T]hen we will hand it over to the Philippine government, the Coast Guard, and then we will provide capacity building training. The second phase of the project would be about how to process collected marine litter," he said. (PNA)