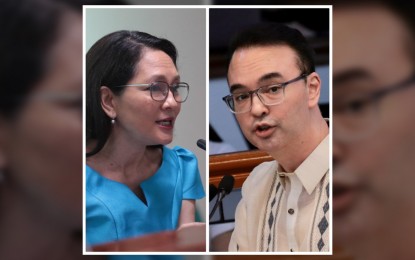 MANILA – Senators Alan Peter Cayetano and Risa Hontiveros "debated" anew Wednesday regarding human rights issues and extra-judicial killings during the Commission on Appointments (CA) first regular session.
The argument started when Cayetano recalled the lower number of extra-judicial killings during former President Benigno "Noynoy" Aquino administration when former Senator Leila de Lima was still the secretary of the Department of Justice (DOJ).
"There were 11,000 to 16,000 extra-judicial killings every year. That's on the record. But what the former senator and Department of Justice Secretary Leila de Lima did, chinange nila yung (they changed the) definition ng (of) extra-judicial to reduce the number of cases," Cayetano said.
The lawmaker, who is also the former Department of Foreign Affairs secretary, said that during former President Rodrigo Duterte's time, De Lima's camp restored the original definition to spike up the number of cases.
"It is our responsibility as a people, pati sa (including the) media na maging (to be) responsible. Ang problema, may mga grupo sa Pilipinas, wini-weaponize yung (The problem is that there are groups here in the Philippines that weaponize) human rights at ginagamit to para siraan yung bansa (and use it to discredit the country)," he added.
Hontiveros was quick to defend De Lima saying it is unfair for the former senator to be accused by Cayetano.
"It is not fair to accuse a person who is not only absent from this hearing, but in jail in the past half decade para akusahan siya na minamasahe niya ang (to accuse her that she is changing the) definition of terms o ang mga bilang (or the numbers)," the lady senator said.
Cayetano clarified that what he was saying is a fact and not an accusation.
"It is an official act of the secretary and the DOJ to place that definition. Everything I've said is on record in the UN Human Rights Commission. It is a formal submission. I've said that in the Senate many times. If you are a human rights advocate, dapat nasa (it should be on) top of your head yung mga numbers na ito, di ba (these numbers, right)? I did not bring up the human rights here. It is the good senator who brought it up," he said.
The argument between the two senators happened during the CA Committee on Foreign Affairs hearing for the confirmation of Ambassador Antonio Manuel Lagdameo as permanent representative of the Philippines to the United Nations in New York.
Cayetano and Hontiveros also argued recently over rules during the election of the members and officers of the CA.
Hontiveros questioned Cayetano's election as CA Minority Leader and pointed out that the latter belongs to the independent bloc. (PNA)