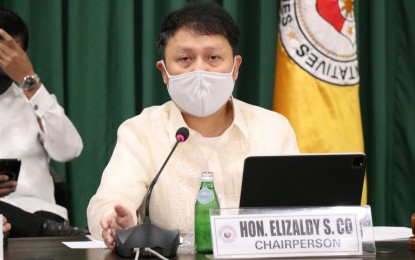 MANILA – The Philippine Amusement and Gaming Corporation (PAGCOR) has earmarked PHP30 million to PHP50 million for each congressional district as disaster resilience funds to ensure the safety and survival of the country's disaster-prone areas, a House leader said on Wednesday.
In a statement, House appropriations committee chairperson Elizaldy Co said the PAGCOR provision totaling between PHP7.29 billion to PHP12.15 billion for the 243 legislative districts would provide funding to aid in disaster response and recovery.
"We thank PAGCOR Chairman Al Tengco for agreeing to provide evacuation and disaster resilience buildings. This amount will help each district cope with typhoons, floods, earthquakes, and volcanic eruptions that frequent our country," Co said.
During the congressional budget hearing of the agency, Tengco reported to the House panel that the gaming regulator's income last year was PHP35.48 billion, while its income for the first half of this year already stands at PHP26.7 billion.
Co noted that PAGCOR has been supporting the country's efforts to boost disaster preparedness and recovery by allotting PHP3.5 billion for the construction of multi-purpose evacuation centers and 77 disaster-prone areas in 2019.
To date, 15 evacuation facilities have been completed in various parts of the country.
Co said PAGCOR is also the source of funding for the social projects for Filipino youth, poor families, and Universal Health Care beneficiaries.
For 2021, it contributed PHP7.71 billion to the Universal Health Care Program per Republic Act 11223.
Deputy Speaker Rufus Rodriguez, meanwhile, opposed the reported plan to privatize or sell PAGCOR to the private sector, arguing that the agency is earning "tens of billions of pesos" a year for the government and for its numerous public service programs.
"I am strongly against privatizing it," Rodriguez said. "So why kill, or more appropriately, why sell the goose that lays the golden eggs?"
Rodriguez, however, suggested that PAGCOR should stop being a regulator and operator at the same time.
He proposed the creation of a Casino Gaming Regulatory Authority so that PAGCOR could continue to be a gaming-casino operator.
"It's not fair to businessmen investing in casinos. This situation of PAGCOR being a regulator and a player is not conducive to attracting investments," he said. (PNA)