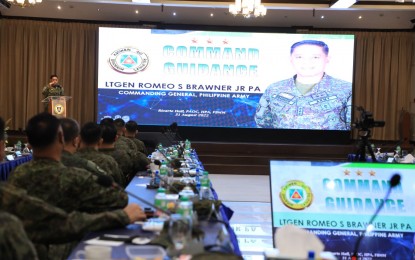 MANILA – Philippine Army (PA) chief, Lt. Gen. Romeo Brawner Jr., has reiterated to field and unit commanders the need to take good care and provide for the needs of the troops under their command, as they are the service's most important assets.
This took place during the PA's second command conference for 2022 held Wednesday at the Army headquarters in Fort Bonifacio, Metro Manila.
"Lt. Gen. Brawner, in his address, set forth his updated comprehensive command guidance encapsulated in 'SERVE': ensure the physical and mental health of soldiers, the Army's most important resource; enhance individual soldier's skills and unit capabilities; and push down much-needed resources to all units nationwide," PA spokesperson Col. Xerxes Trinidad said in a statement Thursday.
The PA chief said these thrusts will enable the Army to attain victory over the remaining communist and local terrorist groups by the end of the year and pursue operational excellence.
"Lt. Gen. Brawner likewise lauded Army troops for helping the Philippine National Police and other government agencies in ensuring the safe, orderly and peaceful conduct of the May 2022 national and local polls," Trinidad said.
Brawner said the command conference is geared at reminding the 110,000-strong Army of the organization's operational as well as administrative compliances.
He added that the conference provided a platform where major unit commanders can voice their issues and concerns to Army headquarters.
"I would also like to remind everyone that the Army should be guided by Servant Leadership. As commanders, we are expected to lead and serve them at the same time. This should remain as our driving force in winning wars and serving our people," Brawner said.
He also called on all Army personnel to maintain the highest standards of professionalism, discipline, and meritocracy.
"Let us maintain our focus and I expect everyone to do your share in our targeted successes. Let us truly serve to the best of our abilities," Brawner said. (PNA)