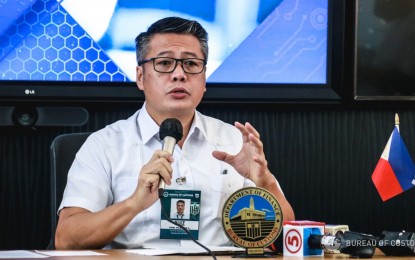 MANILA – The officials of the Port of Subic have been ordered reinstated to their positions following an investigation into the entry of suspected smuggled sugar at the port, the Bureau of Customs (BOC) reported on Thursday.
Customs Commissioner Yogi Filemon Ruiz has reinstated the following officials to their posts:
-- District Port Collector Maritess T. Martin
-- Deputy Collector (Assessment) Maita S. Acevedo
-- Deputy Collector (Operations) Giovanni Ferdinand A. Leynes
-- Assessment Division Chief Belinda F. Lim,
-- Enforcement and Security Service (ESS) District Commander Vincent Mark S. Malasmas and;
-- Customs Intelligence and Investigation Service (CIIS) Field Supervisor Justin S. Geli.
These officials have been reinstated to their previous posts over a week after they were relieved to give way to the investigation.
Ruiz said the probe showed there was no negligence on their part in connection with the supposed entry of smuggled sugar at the port.
"I announce the closure and the termination of the investigation conducted on the alleged smuggled importation of refined sugar at the Port of Subic," the BOC chief said in a statement.
He added that the investigation conducted by the Internal Inquiry and Prosecution Division of the Customs Intelligence and Investigation Service (IIPD-CIIS) also disclosed that the shipments were processed in accordance with the existing rules and regulations of the Bureau of Customs and pursuant to the provisions of the Customs Modernization and Tariff Act (CMTA), no violation or discrepancy in the subject shipments was found.
Also, the verification of the documents such as the Sugar Regulatory Administration (SRA) Certificate for Release of Imported Sugar; Food and Drug Administration (FDA) License to Operate; Certificate of Analysis, FDA Certificate of Product Registration; Bill of Lading; Packing List; Asean Trade in Goods Agreement (ATIGA) Form-D; Commercial Invoice and Load Port Survey Report, showed no irregularities.
"The investigators found all documents presented were complete and properly complied. This means that the consignee complies with the regulations set forth by the Philippine National Trade Repository for the importation of sugar standards," he said.
Ruiz added that the SRA clearances presented on the subject shipments proved authentic and are not recycled as alleged.
"The statement of the BOC-Subic Port of Subic personnel are consistent with and corroborated by the Certification issued by the SRA. Thus, there is no prima facie nor substantial evidence to warrant the filing of administrative charges against the concerned BOC personnel," the BOC chief said.
"Clearly, the issuance of the Certifications by the SRA negated all the allegations of sugar smuggling and effectively cleared and/or absolved the BOC-Port of Subic from any irregularities with regard to the processing of the shipments," he added.
The shipments contain 140,000 sacks of refined sugar from Thailand exported by Ruamkamlarp Export Co. Ltd. and consigned to Oro-Agritrade Inc. (PNA)