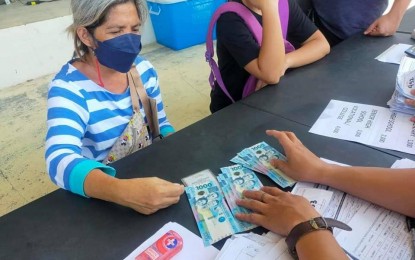 ILOILO CITY – The Department of Social Welfare and Development (DSWD) targets to serve 11,751 students-in-crisis in Western Visayas on the third payout of the educational assistance that will be held in 30 venues across the region on Sept. 3.
"To ensure systematic and orderly payout, there will be additional payout and assessment sites. Again we would like to remind the public that we have no walk-in policy. No walk-in clients will be assessed or provided with educational assistance," May Rago-Castillo, DSWD information officer for Western Visayas, said in an interview on Friday.
Only those who received e-mails or text messages from the DSWD are expected at the payout sites.
The 11, 751 target beneficiaries will be accommodated in seven venues in Negros Occidental with 2,674 expected recipients; three venues each in Aklan and Antique with 1,300 beneficiaries per province; four venues for the 1,301 target beneficiaries in Capiz; 11 venues to accommodate the 3,325 expected learners coming from Iloilo province; and one payout center each in Guimaras, Iloilo City and Bacolod City with 500, 650, and 701 target recipients, respectively.
"Those who registered online and have not received texts or e-mails, we will be responding to all of your concerns," Castillo said.
During the past two payouts, the DSWD extended assistance to 16,033 learners composed of 3,937 elementary learners; 3,214 high school; 2, 015 senior high school; and 6,867 college.
Around PHP43.9 million of the PHP91 million assistance fund allocated for Western Visayas were also disbursed.
"The target tomorrow (Saturday) has a corresponding cash requirement. We still have PHP47 million out of the PHP91 million," Castillo added.
The educational assistance is open to students who are breadwinners, working students, children of solo parents, children of overseas Filipino workers in distress, with parents who are living with human immunodeficiency virus, orphaned or abandoned, unemployed parents, victims of abuse and victims of calamities. (PNA)