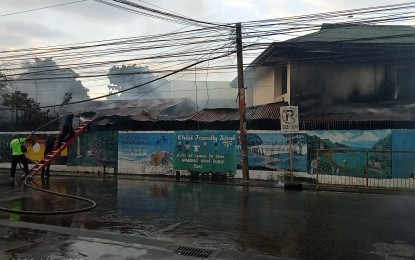 DUMAGUETE CITY – The Department of Education (DepEd) here has reassured the safety of teachers, learners, and non-teaching staff in the midst of an ongoing investigation into a fire that hit an elementary school early this week.
Dr. Gregorio Cyrus Elejorde, DepEd-Dumaguete division of schools superintendent, told the Philippine News Agency on Friday that as mandated by the agency, regular inspection is being conducted in the different public elementary and high schools in the city.
"The safety inspection is a regular activity to determine if the schools are structurally sound and if they provide a safe environment to all users while identifying possible problems that may compromise their health, among other things," Elejorde said in mixed English and Cebuano.
"But I would like to reiterate particularly this time the use of equipment that requires electricity per classroom to avoid a power overload," he added.
On Wednesday afternoon, a fire of still unknown origin hit a two-story building at the West City Elementary School here.
No one was hurt although four classrooms – one for kindergarten and three for Grade IV – were destroyed by the fire, as well as other items in the building that was used in part as a janitorial stockroom.
Elejorde said the Bureau of Fire Protection (BFP) investigators are still probing the possibility that some faulty electrical wiring may have sparked the blaze.
Meanwhile, some 160 learners of the West City Elementary School have shifted to modular/online instructions for the remainder of the week following the incident.
Elejorde said they are hoping to accommodate these students in other classrooms by Monday.
They will start cleaning up the burnt building once they receive clearance from the BFP, he added. (PNA)