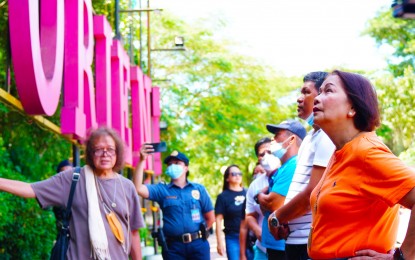 DAVAO CITY – The provincial government of Davao Oriental is gearing up to promote its tourism through a grand campaign dubbed "Davao Oriental Beautiful."
In a statement on Sunday, Governor Corazon Malanyaon said the campaign is poised to promote the province as a premier tourist destination.
At present, she said the provincial government has started making plans to improve its existing tourism sites.
Malanyaon said she envisions all of the province's tourism sites to become must-see stop-over spots for tourists, giving them a relaxed ambiance and beauty of nature.
These destinations include Davao Oriental's crown jewel -- the Mount Hamiguitan Range Wildlife Sanctuary -- which is Mindanao's first and only United Nations Educational, Scientific and Cultural Organization (UNESCO) World Heritage Site.
"These sites will simply serve as support facilities to aid the entire tourism sector of the province. Tourism will not only help resorts, restaurants, hotels, and tour operators but will mainly help farmers, fisherfolk, and the transport sector, among many others, thus, creating vibrant tourism and economic activities that will benefit everyone," the governor said.
She also expressed hope that the provincial government's initiative will inspire other private tourism operators to improve their establishments and adopt the province's standards in terms of tourism and hospitality.
She said Davao Oriental has what it takes to become a premier tourism destination in the country that could become popular among foreign tourists.
In preparation for tourism development, Malanyaon on Saturday led an inspection at the Pintatagan Welcome Park situated at the entrance to the municipality of Banaybanay.
Together with her team from the Provincial Tourism Office, she met with top-caliber architects to discuss the plan and check the areas of the park that need improvement.
The Welcome Park and all the other existing eco parks, which are the province's tourism come-ons, will soon be getting a well-deserved facelift.
Malanyaon also said she plans to put up a cafe that will showcase one of the prominent tribes of Banaybanay town -- the Kagan tribe.
"We want to give tourists a 'Kagan experience' -- from the dishes to the decors and embellishments. Also, we will also be showcasing the Mandaya culture in all its tourist sites, especially on the east coast, which is predominantly composed of people from the Mandaya tribe," she added. (PNA)