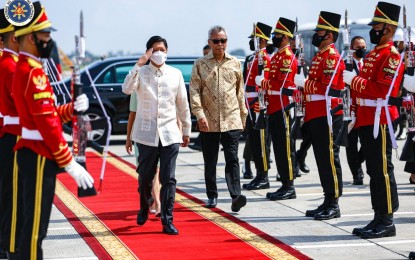 MANILA – President Ferdinand "Bongbong" Marcos Jr. will bring home around USD8.48 billion (PHP466.6 billion) worth of business deals from his three-day visit to Indonesia, a Palace official said Tuesday.
Press Secretary Trixie Cruz-Angeles said these agreements, which were secured during Marcos' roundtable discussion with Indonesian business leaders and investors on Monday, would generate at least 7,000 new jobs.
Of the amount, she said the Philippine government secured USD7billion in infrastructure for unsolicited private-public partnerships (PPPs) such as a C-5 4-level elevated expressway.
Marcos' trip also yielded USD822 million in investments in textiles, garments, renewable energy, satellite gateway, wire global technology, and agrifood and USD662 million in trade value for the supply of coal and fertilizer.
In a press briefing in Jakarta, Marcos told reporters that Indonesian business leaders and investors were "very enthusiastic" about starting businesses in the Philippines.
He said they have also committed to "expanding" their involvement in investments in the country.
Marcos also said discussions concerning PPP agreements were the "most extensive."
Marcos' official visit to Indonesia took place from Sept. 4 to 6.
Aside from business agreements, his trip yielded pacts on defense cooperation, cultural cooperation, creative economy, and a plan of action for bilateral cooperation.
He is currently in Singapore to boost the country's trade and investment relations with its Southeast Asian neighbor. (PNA)