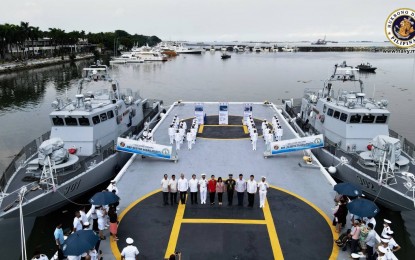 MANILA – The Philippines' ongoing procurement of the fast attack interdiction craft-missiles (FAIC-Ms) from Israel speaks highly of the country's strong relationship with other countries, Armed Forces of the Philippines (AFP) chief of staff Lt. Gen. Bartolome Vicente Bacarro said Tuesday night.
"The procurement of these naval warfare assets through government-to-government mode between the Philippines and Israel demonstrates our robust diplomatic and defense relationship with other countries, grounded on our shared goal of ensuring security and stability," he said in a statement.
Bacarro was referring to the BRP Nestor Acero (PG-901) and BRP Lolinato To-Ong (PG-902), the first two out of nine vessels acquired from the Israel Shipyards Ltd. for PHP10 billion.
He said these ships further enhance the capability of the Philippine Navy (PN) to protect the country's national territory and interests.
"These shall strengthen our naval capability on littoral defense and maritime interdiction operations and decisively forward our Self-Reliance Defense Posture program," Bacarro said.
The two ships were formally christened by Bacarro's wife, Soledad, at the Commodore Divino Pier in the PN headquarters in Manila on Tuesday morning.
"These patrol boats shall significantly enhance our external and internal defense operations in terms of securing our borders against foreign intrusions, and in providing naval warfare support to our ground troops during the conduct of joint operations," Bacarro said.
The PN's FAIC-Ms are based on Israel's Shaldag Mark V class-patrol boats.
Three more are slated to be delivered beginning this year while the remaining four units will be constructed at the PN shipyard in Naval Station Pascual Ledesma, Cavite City.
These 32-meter high-speed vessels are equipped with quick intercept ability, remote stabilized weapons, and short-range missiles that are capable of delivering precision strikes against larger hostiles and high-value targets on land or sea.
PN chief Vice Adm. Adeluis Bordado, said these new FAIC-M vessels are designed to enhance the Navy's capability in addressing threats within the country's "unique archipelagic composition" and protect its maritime interests in a rapid and precise manner. (PNA)