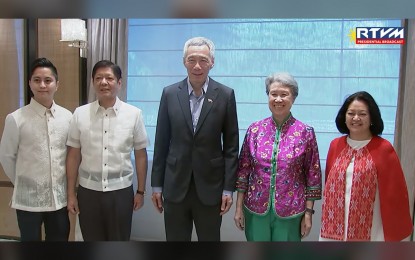 MANILA – South China Sea and the need to maintain a conducive environment for code of conduct (COC) negotiations were among the issues discussed by President Ferdinand Marcos Jr. and Singaporean leaders during the former's first state visit to Singapore.
In a joint statement, Marcos, Singapore President Halimah Yacob, and Prime Minister Lee Hsien Loong sought a stable South China Sea, as they reiterated the Association of Southeast Asian Nations' (Asean) call for "peaceful resolution of disputes" without resorting to threat or use of force.
"They underscored the importance of the full and effective implementation of the Declaration on the Conduct of Parties in the South China Sea (DOC) in its entirety, and to conduct substantive negotiations towards the conclusion of an effective and substantive Code of Conduct in the South China Sea (COC) in accordance with international law, including 1982 UNCLOS (United Nations Convention on the Law of the Sea)," the statement released by the Department of Foreign Affairs (DFA) said.
The three leaders said the COC must also safeguard the rights and interests of all parties in the South China Sea.
China, the Philippines, and several other littoral states are locked in a territorial dispute over the vital sea lane, where Beijing claims about 80 percent under its nine-dash line.
The COC, a framework that would establish a set of rules to manage tensions in the area, is under negotiation between China and the Asean.
Regional, int'l developments
Aside from South China Sea, the three also discussed the situation in Myanmar and the continuing war in Ukraine.
They called for the release of all political detainees in Myanmar including President U Win Myint, State Counsellor Aung San Suu Kyi, and foreign detainees.
"The Leaders expressed deep concern about the situation in Myanmar, including the prolonged political crisis in the country and the recent execution of four opposition activists," the statement read.
They also urged Myanmar to avoid actions that would be inimical to eventual national reconciliation in Myanmar as they expressed disappointment over the limited progress in implementation of the Asean Five-Point Consensus.
On Ukraine, the leaders emphasized the Philippines and Singapore's "staunch support" for international law and the principles enshrined in the UN Charter.
They strongly urged all parties to utilize diplomatic and peaceful means, and avert the further worsening of the humanitarian crisis in the Eastern European state.
Singapore was Marcos' second and last stop in his four-day inaugural state visits, with Indonesia as the first, signifying the importance the Philippines places on its Asean neighbors.
On both trips, Marcos and his counterparts underscored the need to strengthen the "Asean Centrality and unity".
In Singapore, the leaders made a commitment to closely coordinate and provide mutual support at international and regional fora, particularly in Asean and other Asean-led mechanisms. (PNA)