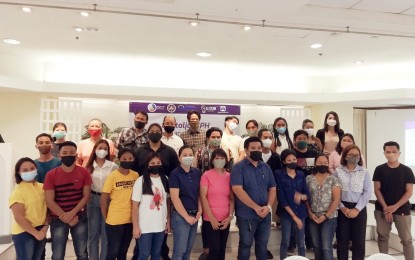 DUMAGUETE CITY – The Department of Information and Communications Technology (DICT) and the Cooperative Development Authority (CDA) on Wednesday launched the country's first-ever collaboration with a private entity here for a digitaljobsPH (djPH) technical training.
Unlike in the past when the digitaljobsPH program of the DICT was brought to different sectors through government agencies or local government units (LGUs), this time it is now being offered for free to select beneficiaries/scholars of the Perpetual Help Community Cooperative, Inc. (PHCCI).
The month-long training on social media marketing and advertising is seen to provide the 31 beneficiaries/scholars the opportunity to learn and acquire skills and competencies for online jobs, said Romulo Amarado, PHCCI board chairperson, during the launching at a local hotel here.
Amarado said the oldest trainee is a 70-year-old female from this capital city and scholars are either members or have next of kin as members of the cooperative.
Angelito Geverola, Project Development Officer II of djPH, DICT-7, told the trainees during the launching that "it is possible that your airtime on social media can actually become your livelihood".
Geverola said that during the Covid-19 pandemic, online jobs provided countless individuals with a source of income working from home.
Online jobs are not discriminatory as it does not even have an age limit, provided one is capable and has the necessary skills for virtual employment, he added.
The training here will include 12 days of lectures and 21 days of application or campaign, where the trainees will look for clients, engage them, and do business with them.
CDA Assistant Secretary Vidal Villanueva, in his message via Zoom, said that after this collaboration with a private entity, they will expand to having on board the Technical Education and Skills Development Authority (TESDA) to benefit more Filipinos in finding online employment.
Paolo Gio Espiritu of the ICT Literacy and Competency Development Bureau of DICT, who also joined the launch virtually, said they have a new mandate of upscaling the workforce, targeting sectors that lack access to jobs.
Asked what PHCCI's objective is for the training, Maricar Aranas-Vensuelo, the cooperative's Special Programs manager, said this is in part a Corporate Social Responsibility endeavor but more of giving back to their member-owners and their families.
"By equipping them with the necessary skills to find online jobs, their lives will become better and they and their families can become self-reliant already," she said. (PNA)