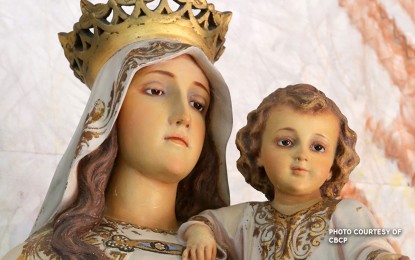 MANILA – Manila Archbishop Jose Cardinal Advincula on Thursday described the Blessed Virgin Mary as a sign of the salvation of mankind.
In his homily during the Mass for the Feast of the Nativity of Mary at the San Bartolome de Novaliches Parish in Quezon City, Advincula said the Blessed Mother's birth brought light to the whole world from the darkness of human sin.
"To be the daybreak is the mission of Mary. She is the sign that God is about to fulfill His promise of salvation. Just as daybreak assures us that the day is coming, the birth of Mary is the assurance that the Light of the world is near," Advincula said.
The Cardinal added that Mary is the "dawn of the morning" where darkness begins to be defeated because of Jesus, whom she conceived.
Sept. 8 is a special working holiday under Republic Act 11370 signed by former President Rodrigo Duterte, in commemoration of the Feast of the Nativity of Mary.
Also on Thursday, the prelate presided over the opening of the annual General Assembly of the Manila Ecclesiastical Province School System Association (MAPSA) where he reminded teachers to imitate Mary as "dawn for the youth".
"We are too called to be the daybreak; this mission is apparent in our task of educating and forming the children and the young. Dear school administrators, teachers, personnel, and parents we are to be the daybreak that will bring the light of Jesus to the lives of our students," he added.
He also challenged those who guide the youth to uphold the truth, fight all kinds of misinformation and promote goodness, compassion, and love for others.
"Let us make it our mission to ensure that our educational process becomes the daybreak for our society as we produce good, capable, truthful, compassionate, and God-fearing students who are to be lights of our world," he added. (PNA)