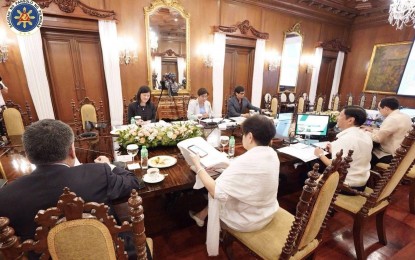 MANILA – President Ferdinand "Bongbong" Marcos Jr. on Thursday met with the officials of the Department of Health (DOH) and the Department of the Interior and Local Government (DILG) to assess the current coronavirus disease 2019 (Covid-19) situation in the country.
Marcos convened the meeting at Malacañan Palace in Manila, following the recommendation of the Inter-Agency Task Force for the Management of Emerging Infectious Diseases (IATF-EID) to allow the optional wearing of face masks outdoors.
"Today, President Ferdinand R. Marcos Jr. met with key officials from the Department of Health (Philippines) and the DILG Philippines to assess the country's Covid-19 situation in light of the IATF's recommendation to make face masks optional outdoors," the Office of the President (OP) said in a Facebook post.
The OP, however, did not mention any decision made by Marcos with regard to the IATF-EID's recommendation.
It, nevertheless, noted that Marcos sees as a positive development the continued drop in Covid-19 infections, amid his administration's efforts to ramp up the nationwide vaccination drive.
"President Marcos welcomed the DOH report which noted a steady decline in Covid-19 cases. The DOH attributes the low positivity rate of 12 percent to the success of the government's intensified national vaccine rollout," the OP said.
The proposal to make the use of face masks optional was first broached by DILG Secretary Benhur Abalos Jr.
Abalos, citing data from different Southeast Asian nations, said there was barely a difference between number of Covid-19 cases in areas where wearing of face masks was mandatory and where they were partially or completely lifted so long as minimum public health standards are strictly observed.
DOH officer-in-charge Maria Rosario Vergeire backed the proposed optional wearing of face masks, but urged the public especially the vulnerable persons to continue wearing one.
Marcos' approval is needed before the IATF-EID's recommendation becomes a policy.
Press Secretary Trixie Cruz-Angeles reminded the public that the use of face masks remains mandatory, unless Marcos approves the proposal to make it voluntary.
As of Thursday, the country logged an additional 2,404 Covid-19 cases infections, raising the number of active cases to 24,032.
The country's total case load has now reached 3,898,882, according to DOH's Covid-19 tracker uploaded on its official website. (PNA)