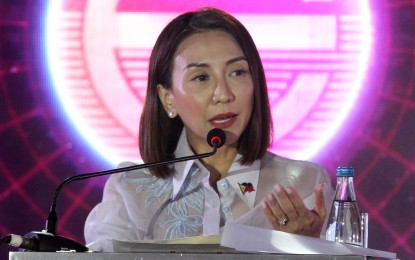 MANILA – The Department of Tourism (DOT) on Friday welcomed the recommendation to ease the country's mask mandate, saying it would give the Philippine tourism sector "a better chance to regain its vibrant and booming operations."
The DOT cited a comparative analysis, saying relaxing mask mandates "did not appear to cause an uptick in Covid-19 cases" in neighboring Asean countries such as Singapore, Thailand, Malaysia, Vietnam, and Indonesia.
"The Philippines is currently in a position wherein its existing entry and stay policies for tourists convey only a partial reopening of the country to international travel," Tourism Secretary Christina Frasco said.
"For this reason, the Philippines is immediately at a grave disadvantage as a tourism destination vis-à-vis its neighboring Asean member states because the latter, which are the Philippines' direct tourism competitors, have all lifted their mask mandates either totally or partially," she added.
Frasco added that aside from Singapore, other Southeast Asian countries saw a general increase in tourist arrivals after mask mandates were liberalized.
"There seems to be no direct correlation between the lifting of mask mandates and the increase in Covid-19 cases, only that the lifting of the mask mandates has served to more than double the tourist arrivals in these countries," she said.
Joey Concepcion, Go Negosyo founder and Private Sector Advisory Council Jobs group lead, likewise supports the optional wearing of masks outdoors.
"Nakikita natin that the optional use of face mask at iyong ginawa ng Cebu dito ay sa pananaw ko ay tama naman iyan (We see that the optional use of face mask and what Cebu did, in my perspective, is right)," Concepcion said during the Laging Handa public briefing Friday.
Cebu City is implementing the optional face mask policy from September 1 to December 31.
Concepcion said Filipinos know now how to protect themselves against Covid-19.
"I think it is the right time to accept the fact that Covid-19 is going to be here for quite some time. So we cannot wear face mask outdoors all the time," he said.
Frasco reiterated that the country "desperately needs" to improve its openness and attractiveness as a destination in order to spur economic recovery and relaxing the health measure is "certainly beneficial" to be at par with the other countries in Asia, Europe, and North America.
Aside from Southeast Asian countries, Frasco said Japan, South Korea, Hong Kong, the United Kingdom, the rest of the European Union (EU), and the United States have already relaxed their mask mandates.
Concepcion, however, wants mandatory mask-wearing indoors, like in shopping centers and hotels, and in public transportation
The Inter-Agency Task Force for the Management of Emerging Infectious Diseases submitted to President Ferdinand Marcos Jr. its recommendation to make masks optional in open spaces, or non-crowded outdoor areas with good ventilation.
Undersecretary Maria Rosario Vergeire, Department of Health (DOH) Officer-in-Charge, insists on the wearing of face mask as it scientifically provides 70 to 80 percent protection against Covid-19 and other illnesses, a view shared by Dr. Rontgene Solante, an infectious disease expert.
Press Secretary Trixie Cruz-Angeles previously said the DOH would still have the "major say" on the fate of the mandatory face mask policy and must reach a compromise with DOT before the rule is revised. (PNA)