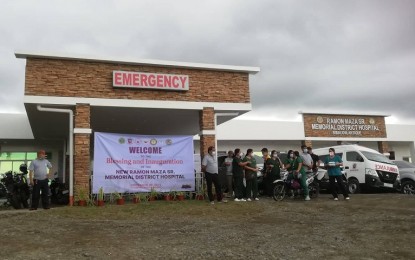 SAN JOSE DE BUENAVISTA, Antique – The PHP104 million new building of the Rep. Ramon Maza, Sr. Memorial District Hospital in a one-hectare lot provided by the Municipality of Sibalom is expected to give residents of Antique province the best medical care they need.
The 25-bed capacity building inaugurated on Friday was funded under the Health Facilities Enhancement Program of the Department of Health Western Visayas Center for Health Development (DOH WV CHD), the office of then-Antique congresswoman now Senate President Pro Tempore Loren Legarda, and the provincial government.
"The new hospital building has been constructed so that even the balikbayans (returning) Antiqueños who had been living abroad and would now like to retire in Antique, particularly in Sibalom, would have better access to their health care needs," said Antique Governor Rhodora Cadiao in her message.
Construction for the new building started in 2015 to replace the already dilapidated hospital beside the Sibalom Municipal Hall in the town proper.
As the first hospital in the province with a mental health facility, the new building will serve as a referral facility for patients with an acute mental disorder previously referred to a mental hospital in Iloilo Province.
The new building will primarily serve patients needing medical, surgical, pediatric, and obstetrical-gynecological intervention.
Sibalom Mayor Gian Carlo Occeña expressed gratitude to the DOH WV CHD and the provincial leaders in Antique for helping the local government unit realize its plan to construct a new hospital building.
Chief of Hospital, Dr. Gilfred Jardenil, said the admission of patients in the new building will start on Sept. 16.
"There are three doctors who are now employed in the hospital, including a psychiatrist," he said. (PNA)