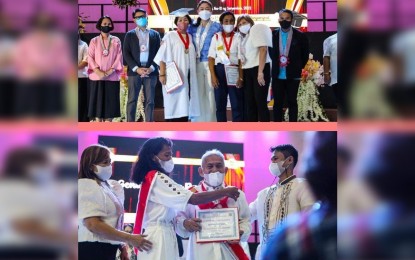 MANILA – Three elderly residents of Taguig City achieved their dream of finishing basic education through the city's Alternative Learning System (ALS) program.
These senior citizens -- 82-year-old Mwusews Anthony Mari Diaz, 73-year-old Luvisminda Fajardo and 63-year-old Erlinda Dejumo, were among the 1,285 students who finished elementary and secondary education under Taguig's ALS program last Sept. 10.
"Anuman ang iyong edad, posible pa ring makatapos ng pag-aaral (Regardless of your age, it is still possible to complete your education)," Diaz, who was also recognized as the oldest ALS passer who completed junior high school, in a statement released on Monday said.
Diaz, Fajardo and Dejumo thanked the city government and the people who supported them in their journey.
Diaz noted that his old age became a barrier when he was studying especially when he had to adapt to using modern technology. But his teachers helped him every step of the way.
Fajardo, who completed elementary education, meanwhile, said there were instances she didn't understand the modules being taught.
Thanks to her teachers, children and grandchildren who have been so patient with her, she managed to comprehend the lessons.
Dejumo, a registered masseuse and ukay-ukay (used clothes) vendor, noted that it was poverty that prevented her from completing her studies in the province.
Mayor Lani Cayetano, who attended the ALS graduation and completion rites at the Taguig City University Auditorium, hailed the ALS graduates for their grit and determination.
She also added that funding for the city's ALS project would increase.
The local government declared the formal launch of the ALS Senior High School program in Taguig Integrated School, which will give others the opportunity to continue their studies and achieve a higher level of education.
Under the current ALS program in Taguig, students undergo modular education and assessment instead of entering a typical public school to pursue their studies.
Dr. Daisy Mataac, education program supervisor in charge of ALS in the Division of Taguig and Pateros, said the city government shoulders the honorarium given to ALS teachers and provides the funding for ALS-related materials and programs such as graduation rites.
"Some of our graduates are now professionals We have five teachers. They're now employed in Taguig public schools," she added. The City of Taguig has always been putting a premium on the education of its citizens.
During her first term in office, Cayetano increased the budget for the Taguig Scholarship Program, from PHP5 million to PHP100 million. The scholarship budget was increased yearly since then to give focus on more complex courses.
In 2022, the budget for the scholarship program of the city reached PHP750 million.
She also established a more uniform system for the Early Childcare Development Program which covers support for Basic Education.
Taguig has also been handing out 10 different scholarship types under the Lifeline Assistance for Neighbors in Need (LANI) Scholarship program to qualified college students, including those studying for the professional board exams.
In Taguig, students from science schools receive monthly allowances.
Honor graduates receive incentives ranging from PHP2,500 to PHP30,000.
In 2020, the city introduced a new scholarship program dubbed Advancing Sports Competitiveness and Excellence (ASC Excellence) Scholarship Program which caters to Taguigeño athletes and varsity players. (PNA)