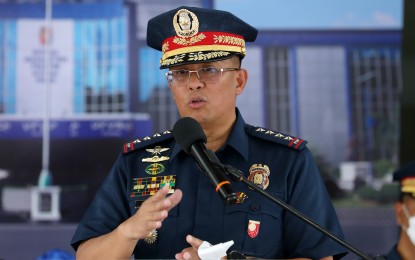 MANILA – Philippine National Police (PNP) chief, Gen. Rodolfo Azurin Jr. on Monday said he had a fruitful meeting with his Indonesian and Singaporean counterparts on regional security concerns.
Speaking on the sidelines of the flag-raising rites in Camp Crame, Azurin said the meetings took place when he joined President Ferdinand Marcos Jr.'s delegation during the President's state visits to Indonesia and Singapore last week.
"With minimal diplomatic formalities, and in the spirit of ASEANAPOL (ASEAN Chiefs of National Police) solidarity, we cordially compared notes on some pressing regional issues, and how our respective national police agencies are responding to the situation," Azurin said.
During his meetings with Indonesian National Police chief, Gen. Listyo Sigit Prabowo, and Singapore Police Force Commissioner Hoong Wee Teck, Azurin noted that common security concerns of the Philippines, Indonesia, and Singapore police forces are the coping mechanisms of law enforcement in pandemic and the post-pandemic scenario; the continued operation of transnational drug trafficking syndicates that are directly linked to domestic drug activities in ASEAN countries; as well as perennial issues on other transnational crime activities such as commercial fraud, trafficking in persons, counterfeiting, intellectual property rights (IPR) violations, cybercrime, and terrorism.
"We expressed mutual desire to further discuss these issues among other national police agencies in forthcoming conferences of the ASEANAPOL," said Azurin.
While noting that he and his Indonesian counterpart did not touch on the existing 2014 delimitation agreement that outlines the Philippines' boundary with Indonesia, Azurin said he shares the view of Marcos that such bilateral agreement can serve as a template for similar delimitation agreements for states with overlapping exclusive economic zones to settle claims peacefully.
"We strongly believe that the international engagement of the President with other ASEAN leaders is instrumental not only in renewing our commitment towards deepening diplomatic relations but also to establish high-level of mutual cooperation between law enforcement agencies across the world to bolster global police cooperation while recognizing the significance of maintaining strong ties with all sectors of the community and spur domestic economic growth of respective countries," Azurin said. (PNA)