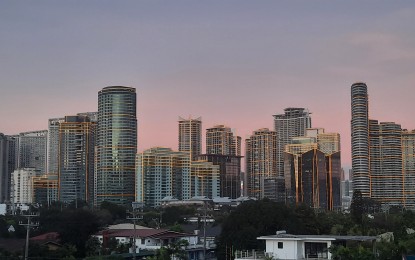 MANILA – Chief executive officers (CEOs) in companies operating in the Philippines remain optimistic in the next 12 months, the PwC and Management Association of the Philippines (MAP) 2022 Philippine CEO survey showed.
According to the survey, 87 percent of the CEOs are confident that their firms will record growth in revenues over a year amid the new leadership in the government and while the country is still recovering from the coronavirus disease 2019 (Covid-19) pandemic.
PwC and MAP said the numbers demonstrated that businesses remain confident with the country's economic recovery and resiliency.
Surveyed CEOs said key growth drivers for the Philippines in the next 12 months are infrastructure development (62 percent), domestic consumption (59 percent), and government spending (49 percent).
Firms' top executives also consider the United States, China and Japan as important countries that could impact their companies' overall growth.
The survey also reported that 35 percent of the surveyed CEOs said their firms still have not recovered from the Covid-19 pandemic as the global health and economic crisis still has continuing impact on their businesses, such as higher material costs (48 percent), supply chain constraints (45 percent), labor constraints (37 percent), and accelerated inflation in other territories (26 percent).
On the other hand, most of the surveyed CEOs said factors that will hamper their companies' growth and recovery from the pandemic are the threats of new Covid-19 strains and potential lockdowns (50 percent), talent constraints (44 percent), and the ability to keep up with the changing innovations (26 percent).
It added that majority of companies' business plans post-pandemic include technology and digital upskilling, introducing new strategies for talent retention and development, improving customer experience, and increasing investments in innovation.
"The CEO survey results tell us the journey that we should take, as well as a mirror on where we are. The collective insights of leaders give everyone a level of confidence on how to plan their journey, where they are lagging, as well as what could set them apart," PwC Philippines chairman emeritus and ESG leader Alex Cabrera said.
Meanwhile, CEOs said the Marcos administration should prioritize accountability and transparency, fight against corruption, and attracting more foreign investments for the government to help in the recovery and growth of businesses.
The survey also showed the top concerns of CEOs that could delay the country's economic recovery. These include corruption, lower domestic and investments, political uncertainty, uncontrolled inflation, and rising oil prices.
"I also hope the government will take heed of these sentiments as the private sector is simply an invaluable and indispensable partner to achieving success in nation building and global competitiveness," Cabrera added. (PNA)