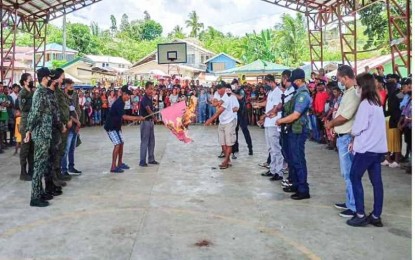 DUMAGUETE CITY – The 62nd Infantry Battalion (62IB) of the Philippine Army in Negros island on Tuesday denounced the Communist Party of the Philippines-New People's Army (CPP-NPA) for spreading fake news on social media, claiming that a police officer and a soldier were killed in Guihulngan City, Negros Oriental over the weekend.
"This is yet one of the desperate moves of the CPP-NPA apparently to regain the trust of the masses and perhaps develop credibility as they continue with their protracted war against the government," said Lt. Col. William Pesase, 62IB commanding officer, in mixed English and Filipino during an interview with the Philippine News Agency.
The Leonardo Panaligan Command of the NPA in Central Negros released a statement on social media saying that a policeman was killed by a rebel sniper on Sept. 10 at a sub-station in Sitio Parkingan, Barangay Trinidad, Guihulngan City.
The NPA further said that on Sept. 11, a soldier from the 62IB was also killed during a "sniper operation" by rebels at Sitio Tuko in the same hinterland barangay.
The Army battalion countered by saying that 62IB troopers briefly engaged NPA rebels in the area on Sunday evening after residents reported their presence, the Army commander said, although no casualties were reported on either side.
Pesase debunked both claims, saying there is no evidence to prove the deaths of the law enforcers.
The statement came on the heels of a "Local Peace Engagement" over the weekend, attended by 565 residents of Barangay Trinidad during which they denounced and condemned the atrocities of the NPA, the 62IB said.
Pesase reiterated his appeal to the people against falling prey to the fake news being circulated on social media by the NPA, noting that this is just part of the rebel organization's "propaganda to threaten them and to get the support of the masses".
The CPP-NPA is listed as a terrorist organization by the United States, European Union, the United Kingdom, Australia, Canada, New Zealand, and the Philippines.
The National Democratic Front has been formally designated as a terrorist organization by the Anti-Terrorism Council on June 23, 2021, citing it as "an integral and inseparable part" of the CPP-NPA created in April 1973. (PNA)