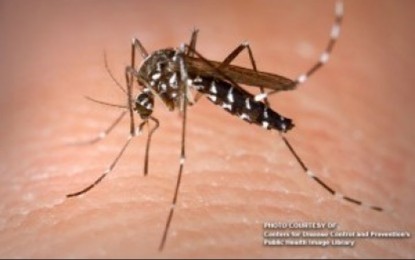 MANILA – The Quezon City government is reminding residents to clean their surroundings and be cautious as it reported a three-fold rise in cases of dengue as well as leptospirosis in the city this year.
In a Facebook post on Tuesday, the city government said the QC Epidemiology and Disease Surveillance Unit (CESU) recorded a total of 2,328 dengue cases from the city's six districts from Jan. 1 to Sept. 8.
The city government logged a total of 748 dengue cases in the same period last year.
"(Some) 211.23 percent o 1,580 ang itinaas ng kaso kumpara noong 2021. Patuloy na binabantayan ng lokal na pamahalaan ang bilang ng nagkakasakit sa dengue (There is an increase of 211.23 percent or 1,580 cases as compared in 2021. The local government continues to monitor the number of dengue cases)," the city government's post read.
QC CESU data showed that District 4 logged the highest number with 413 cases, while District 3 has the lowest with 314 dengue cases.
The city also recorded 15 deaths due to dengue from January 1 to September 8, 2022.
Meanwhile, the city government also noted an increase in its leptospirosis cases with 78 cases from Jan. 1 to Sept. 1, this year.
"Ito ay mas mataas sa dami ng kaso kumpara noong 2021. Nakapagtala ang District 2 ng pinakamataas na kaso na may 24 na bilang, samantalang ang District 3 naman ay nakapagtala ng pinakamababa na may apat na kaso. May 11 naman ang bilang ng namatay sa (This is higher as compared to 2021. District 2 recorded the highest number of cases with 24, while District 3 recorded the lowest with four cases. Some 11 have died from) Leptospirosis," QC CESU posted.
It has yet to disclose the number of leptospirosis cases for the same period last year.
The city government advised residents to wear protective gear like boots especially when wading through flood waters.
Leptospirosis is an infection caused by leptospira spirochetes bacteria that spread through the urine or feces of infected animals, especially rats.
It can be contracted by swallowing contaminated food or water, when the bacteria entered the body through the mouth, nose, and eyes, or through open wounds and cuts.
Symptoms of leptospirosis include high fever, chills, muscle pain, redness of the eye, headache, vomiting, diarrhea, and yellowish skin or jaundice. If left untreated, it may even cause kidney failure, massive internal bleeding, and death.
Dengue, on the other hand, is a viral infection transmitted to humans through the bite of infected mosquitoes.
The most common symptoms of dengue include nausea, vomiting, rashes, and body pain, among others.
The QC government advised residents to clean their surroundings of mosquito breeding places and immediately go to the nearest hospital or health center in case of any symptoms. (PNA)