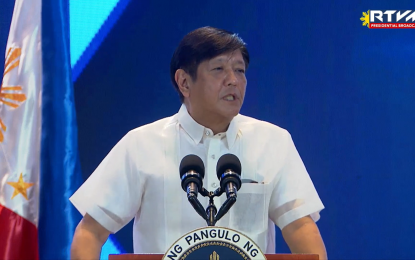 MANILA – Lifting more Filipinos out of poverty is President Ferdinand "Bongbong" Marcos Jr.'s dream for the Philippines.
In his taped one-on-one interview with TV host Toni Gonzaga aired on AllTV Channel on Tuesday, Marcos emphasized the need to promote "equality" in the country, as the thought of children suffering from hunger and living in poverty made him emotional.
Asked about his dream for the country, Marcos said: "[I want] equality. Daming mayaman dito. Daming mahirap. Mas marami ang mahirap (There are many rich people in the country. But the number of poor people is greater)."
"What really affects me is to see an innocent suffering, kapag may nakita akong maliit na batang nahihirapan, walang makain, may sakit (when I see children suffering, could barely eat and are sick)," Marcos added.
Marcos made the statement, as he vowed to continue the legacy of his late father and namesake, former president Ferdinand E. Marcos Sr.
He said the memories that he had about his father serving the country "prepared" him for the presidency.
"I don't know if I'm completely prepared but I have some preparation you know that I can put in my belt and that's just watching my father. Watching what he did," Marcos said.
'Performance is best politics'
Acknowledging that "performance is best politics," Marcos promised to work for the Filipino people and give them a comfortable life.
"Performance is the best politics. 'Pag maganda ang nagawa mo, kahit anong sabihin nila, nagawa mo eh (If you are able to accomplish something, whatever they say, you are able to do it)," he said.
"Alam ng tao eh kung sinong nagdala ng improvement doon sa kanilang buhay (People know who bring improvement to their life). That's the most important thing. At saka walang (And no one), nobody can take that from me," Marcos added.
This, as he admitted that "partisan interest" divided the country.
"We lost sight, in many ways, of the national interest. And we only talked about partisan interest. Pinaglalaban lang natin ''yung sa partido ko, 'yung sa kandidato ko, 'yung sa gusto ko,' doon sa… Hindi natin iniisip 'yung ano 'yung para sa Pilipinas (We just talked about the political parties, their candidates, and their interests. We do not talk about what the Philippines deserves)," Marcos said.
'In for a wild ride'
Despite the challenges that he may face during his presidency, Marcos said he is now ready to take on a "wild ride."
If he were to talk to his eight-year-old self, Marcos said he would tell him to brace for the "unexpected" and "amazing" things that will come along his way.
"'Boy, are you in for a wild ride? You have no idea of what the rest of your life is holding. It's going to be something. Something amazing. It's going to be something unexpected.' There are so many things that happened in my life that were so unexpected. Yes, that's what I will tell my little self. Prepare yourself because ang daming mangyayari sa buhay mo (you will experience many things in your life)," Marcos said.
His parents' 'victory'
Marcos won the presidency by a landslide 31,629,783 votes, or over 16 million votes ahead of his closest rival, former Vice President Maria Leonor Robredo.
Marcos admitted that his landslide win "shocked" him.
He, nevertheless, attributed his victory to his father and mother, former First Lady Imelda Marcos.
"'You (Dad) should be here. This is yours. This is not all mine. This is yours and mom's. It's your good work that brought me here. Don't leave me now. I'm going to need your help," Marcos said, as he recounted what he had told his father when he visited his tomb on May 11, or two days after the May 9, 2022 presidential race.
"I spoke to him. I said it's time for you to rest now. Don' t worry, we'll be here. We'll continue. I will use everything I've learned from you to continue your work. And I will try to continue that," the President said. (PNA)