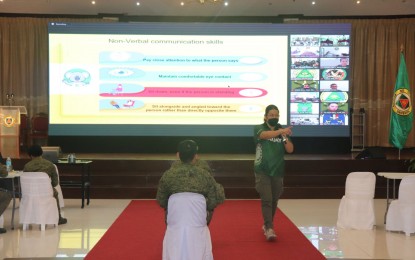 MANILA – The Philippine Army (PA) conducted its first-ever mental health first aid and gender-based violence response training.
PA spokesperson Col. Xerxes Trinidad, in a statement Wednesday, said about 200 Army gender and development (GAD) officers, personnel, and civilian employees attended the activity through video-teleconferencing and onsite at the Philippine Army Officers Clubhouse in Fort Bonifacio, Taguig City from Monday to Tuesday.
"The two-day training is geared at capacitating GAD teams in effectively addressing gender-based violence by providing mental health first aid to victims," Trinidad added.
Army General Hospital (AGH) chief for neuropsychiatry and mental health section Maj. Christine de Jesus discussed mental health disorders while psychologist Marilyn Payumo shared mental health first aid tips.
Military psychiatrist, Capt. Venus A. Agnabo, and psychologist, Janette Martinez-Hapita, also served as resource persons for the activity.
The speakers gave premium to the importance of stress relaxation and psychospiritual counseling in taking care of the troops' mental well-being.
"To see into the mind of another, we must repeatedly immerse ourselves in the flood of his association and feelings. We must be, ourselves, the instrument that scans him or her," PA chief surgeon Col. Joel Enrico N. Anastacio said in his remarks, quoting American psychiatrist Dr. John Nemiah.
PA chief Lt. Gen. Romeo Brawner Jr. earlier said ensuring the well-being of troops under his command has been his advocacy since he began his military career shortly after graduation from the Philippine Military Academy (PMA) in 1989.
"Kita ko po rin kasi during the Marawi Siege (in 2017), nung natapos na yun Marawi Siege na biglang nag-uwian yun mga sundalo natin without the benefit of a proper mental, psychological debriefing. Meron naman pero, it wasn't really enough. Not everybody will do that (I saw that shortly after the Marawi Siege, participating troops went home without the benefit of proper mental and psychological debriefing. There were some, but it wasn't really enough. Not everybody will do that)," Brawner said.
He added that mental health was one of his advocacies during his stint as commandant of cadets of the PMA.
This was after he learned that some of the cadets then had suicidal tendencies.
"I will continue on with that advocacy here in the Philippine Army because no matter how good you are, no matter how competent and skilled you are, there are times you get too much affected by personal problems," Brawner said.
As this developed, Army vice commander Maj. Gen. Camilo Z. Ligayo assured the public that the PA is implementing programs to ensure the mental health and well-being of soldiers and to address cases of gender-based violence within the organization.
"As a steadfast advocate of fostering a resilient mental health environment for all, the Philippine Army actively promotes and supports the national government's objective of facilitating and providing optimal mental health care services as a fundamental right of every Filipino," he added.
Ligayo also said the PA is working to foster a safe space for all Army personnel, regardless of gender, age, rank, and position in the organization.
He said that this is in line with the Army's objective of becoming a gender-responsive institution for the Filipino people. (PNA)