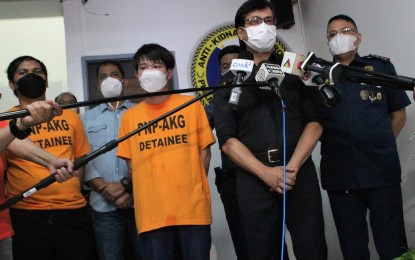 MANILA – Police officers rescued a Malaysian woman who was kidnapped and held for ransom by a Chinese-Malaysian man and his Filipino accomplice, the Philippine National Police (PNP) said Wednesday.
PNP chief Gen. Rodolfo Azurin Jr., citing reports from the PNP Anti-Kidnapping Group (AKG), identified the suspects as Justine Alaraz, 28, and Chinese-Malaysian national Chan Yong Howe, 29.
Azurin said the victim Lim Voon Phei, 35, arrived in the country on Sept. 9 and was supposed to meet a certain Jerry whom she met on a dating app.
However, she was met by one of the suspects at the airport and took her to a house in Carmona, Cavite where she was detained.
"With the use of an internet chat application, the victim was able to send messages to her family asking for 26,000 Malaysian Ringgit (PHP300,000) ransom for her liberty. At the same time, she was able to send descriptions of her captors and the vehicle used by the suspects," Azurin said.
Through this information, members of the PNP-AKG and the Aviation Security Group (AVSEGROUP) intercepted the vehicle used by the suspects and rescued the victim in an operation at the Ninoy Aquino International Airport Terminal 1 in Pasay City on Monday.
Department of the Interior and Local Government (DILG) Secretary Benjamin Abalos Jr. presented the suspects to the media at the PNP-AKG headquarters in Camp Crame, Quezon City on Tuesday night.
Abalos said the woman is likely to be a victim of a human trafficking syndicate.
He cited the swift and efficient action of the AKG and the AVSEGROUP that resulted in the suspects' arrest.
"We will not rest until we gain an upper hand and deliver justice for the victims as we continue to uphold our mandate to keep our nation and the Filipino people safe and protected,'' he added. (PNA)