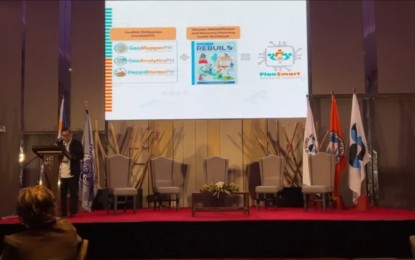 MANILA – The newly launched PlanSmart Ready to Rebuild web application of the Office of Civil Defense (OCD) will allow local government units (LGUs) hit by calamities to immediately generate rehabilitation and recovery plans (RRPs).
"This app, which will systematically generate RRPs using science-based information and pro-forma templates, will significantly help LGUs plan for quick and resilient recovery," OCD Administrator, Undersecretary Raymundo Ferrer, said in a statement Wednesday night.
The PlanSmart Ready to Rebuild web app is an automated planning tool envisioned to revolutionize the disaster risk reduction and management (DRRM) planning processes in the country by helping the government, especially LGUs, to plan for disasters more efficiently and to build back better faster.
"We welcome the development of the PlanSmart Ready to Rebuild app and its support capacity building program as tools for our LGUs that are at the forefront of mitigating and managing disaster risks," said Ferrer, who is also National Disaster Risk Reduction and Management Council (NDRRMC) executive director.
The Department of Science and Technology (DOST), Philippine Institute of Volcanology and Seismology (Phivolcs), Department of the Interior and Local Government (DILG), NDRRMC, and OCD in partnership with the World Bank launched the app on Wednesday.
"Through PlanSmart, it is my vision that we will have a geospatially-enabled Philippines where we evaluate data, time and location together for better analysis and decision-making," said DOST Secretary Renato Solidum Jr.
The app speeds up the development of RRPs and supports evidence-based decision-making and planning for pre- and post-disaster events.
It is an offshoot of the GeoRiskPH Integrated Platform developed by DOST and the Ready to Rebuild (R2R) Program led by OCD, enables LGUs to autogenerate an RRP through the use of a pro-forma document template.
"The World Bank as well as the Global Facility for Disaster Rehabilitation and Recovery (GFDRR) staunchly support this effort led by our national government partners. We are also pleased to know that the PlanSmart Ready to Rebuild app is just the first of a series of planning tools that are being developed under the PlanSmart platform. This is as an opportunity to continue highlighting the importance of access to risk information to support comprehensive hazard and risk assessments and data sharing among national government agencies, LGUs, and the public for science-based planning and investments programming," said Ndiamé Diop, World Bank Country Director for the Philippines, Malaysia, Thailand, and Brunei.
The PlanSmart Ready to Rebuild launch also heralds the rollout of capacity-building activities to enable LGUs, particularly data managers, DRRM officers, planning officers, and other staff involved in disaster rehabilitation and recovery programs, to use the app for the creation of their local RRPs.
"I am encouraging our LGUs to maximize the use of this PlanSmart Ready to Rebuild app in every aspect of their respective disaster risk management – recovery and rehabilitation, preparedness, response, and prevention processes, mechanisms, and strategies. For us to be able to effectively and efficiently utilize the PlanSmart Ready to Rebuild application, I am also encouraging our LGUs to populate the baseline data in the GeoRiskPH Integrated Platform to enrich the database of the platform," DILG Secretary Benjamin Abalos Jr. added.
For its pilot run, the training program intends to equip more than 400 participants from 137 LGUs in the National Capital Region, Calabarzon, Bicol, Central Visayas, and Caraga.
LGU participants in the pilot run will include R2R Program graduates, those with existing GeoRiskPH Memorandum of Agreements with DOST-Phivolcs, and those located in areas that were identified by the Cabinet Cluster on Climate Change Adaptation, Mitigation, and Disaster Risk Reduction as vulnerable to impacts of climate change and disasters. (PNA)