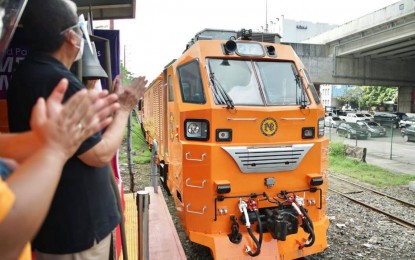 MANILA – Senator JV Ejercito welcomed on Thursday the PHP113.99-billion budget proposed by the Department of Transportation (DOTr) for the railway project of the Marcos administration.
Ejercito said he noticed that the proposed budget was five times bigger than the PHP23 billion this year.
"I am happy that we are in full blast with this. I hope DOTr will be able to step up para matapos niya talaga to (so it can really finish this up)," he said during the Development Budget Coordination Committee (DBCC) briefing with the Senate Committee on Finance chaired by Senator Sonny Angara.
Department of Finance Secretary Benjamin Diokno told Ejercito that there is actually more than PHP300 billion in the General Appropriations for the railway project.
"As soon as they [DOTr] can implement, we will provide the money," Diokno said.
He recalled that President Ferdinand "Bongbong" Marcos Jr. assured the public in his State of the Nation Address that the administration is focusing on the rail transit system.
"Mass transit talaga kasi (really) instead of building lots of roads. In fact, I understand your impatience but these are large projects. I can assure you we will ramp it up in the next year or two," Diokno said.
"That's very welcome Sec. Ben because I think we have a lot of catching up to do especially with our ASEAN neighbors. They've invested heavily in infrastructure and I'm glad that President BBM continued the Build, Build, Build Program under the Build, Better, More Program. So sana nga magtuloy-tuloy na eh (So I hope this continues)," Ejercito responded.
The challenge for the DOTr, the lawmaker said, will be how to improve the agency's absorptive capacity.
Department of Budget and Management Secretary Amenah Pangandaman agreed with Ejercito but assured the senator that the DOTr, with its new leadership under Secretary Jaime Bautista, will move much faster than the previous years.
"For the 2023 NEP [National Expenditure Program], we moved an amount of PHP378.2 billion of foreign assisted projects. Instead of the budget in the program, we placed it under the unprogrammed appropriations," she said.
In a previous statement, Ejercito said expanding the country's railway system will pave the way for economic hubs in rural areas and decongest urban centers across the archipelago.
"We have always dreamt of making the railway stations as economic hubs where business districts, industrial estates, commercial areas, and agricultural terminals are present and booming. This will surely spread out the development from Metro Manila Cebu, and Davao to the far-flung areas of the country," he said. (PNA)