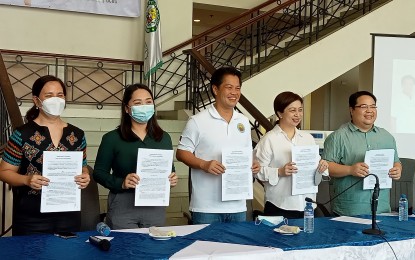 BACOLOD CITY – The city government here has partnered with two private hospitals to allow the admission of indigent patients without deposit to ensure immediate medical care for the underprivileged.
The initial six-month partnership, which will be implemented under the Bacolod City Comprehensive Health Program (BacCHP), has been formalized through a memorandum of agreement signed by Mayor Alfredo Abelardo Benitez and the respective representatives of the Metro Bacolod Hospital and Medical Center, and South Bacolod General Hospital in rites held at the Government Center lobby on Thursday.
"(These) private hospitals will now accept BacCHP (card)holders without the need of any deposit (and) any other requirements they would ask patients before allowing them entry. This becomes an easier way for them to be able to access medical attention," Benitez said.
"The difference is that before, you cannot be admitted in a private hospital unless you pay a deposit. Now, it is no longer required. Before, you still need to apply for requirements. Now, you are pre-qualified, you can just go to the hospital and seek the medical service that you need," he added.
So far, some 10,000 residents here have registered to avail of the benefits as holders of the BacCHP Family Health Membership card.
A cardholder or a qualified dependent who is admitted to any of the two private hospitals will first avail of Philippine Health Insurance Corp. (PhilHealth) coverage and if the covered amount is not sufficient to cover his or her bill, the city government will tap national government agencies such as the Department of Social Welfare and Development, Department Health, Philippine Charity Sweepstakes Office and Philippine Amusement and Gaming Corp. for medical assistance as well.
"Instead of letting the people apply for medical assistance, it would be the BacCHP that will do it on their behalf. If it's still not enough, that's when the city government funds will come in," Benitez said.
Dr. Christine Marie Puey of the Metro Bacolod Hospital and Medical Center thanked Benitez for allowing them to be part of the "noble project".
"We are one with the mayor in making health care available to all (Bacolod residents) without discrimination to the underprivileged. We wish success of the BacCHP program and promise full support to it," she added.
Cherry Pink Nonato of South Bacolod General Hospital said they are also grateful to be part of the program to serve the people of Bacolod.
"The hospital will continue to support the programs of Bacolod," she added. (PNA)