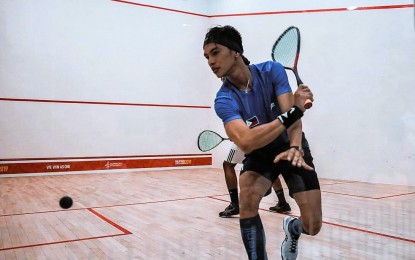 MANILA – No. 4 seed Filipino Robert Andrew Garcia stamped his class over Wailok To of Hong Kong, 11-7, 11-9, 11-7 on Thursday night to reach the quarterfinal round of the USD6,000 Eastside Open in Hobart City, Australia.
The world No. 166 Filipino dominated the 34-minute match to advance against No. 16 seed Elijah Thomas of New Zealand.
The 19-year-old Thomas from Auckland needed only 26 minutes to eliminate No. 7 seed Zahor Shah of Pakistan, 12-10, 11-6, 11-1.
"My performance is better now after my match against Addeen in Devonport. Somehow, I am getting used to the cold temperature. I am more comfortable playing in warmer courts," said Garcia, who absorbed a first-round setback (8-11, 9-11, 9-11) to Malaysian Addeen Idrakie, the No. 8 seed at the Tasmanian Open in Devonport City last week.
Garcia is hopeful about his chance against Thomas, who is currently No. 291 in the world.
"I think I am stronger than him. It will be our first meeting in a tournament. We had a chance to play during practice because we were roommates during the Costa North Costa Open in Coffs Harbour City," said Garcia, who is scheduled to face Thomas at 6:15 p.m. (Manila time) on Friday.
Meanwhile, No. 1 seed Lwamba Chileshe of New Zealand kissed his title bid goodbye after being ousted by No. 13 seed Matthew Lai of Hong Kong.
L. Chileshe, ranked No. 95 in the world, recovered in the second set but that proved to be his best effort as Lai played brilliantly to win the match, 11-8, 11-3, 11-0, 11-3, in 41 minutes.
Lai will next face No. 9 seed Bryan Lim Tze Kang of Malaysia, who stunned No. 5 seed Rhys Dowling of Australia, 11-1, 19-17, 11-3.
Victory did not come easy for second seed Robin Gadola of Switzerland and No. 3 Temwa Chileshe of New Zealand.
The 6-foot-3 Gadola, a semifinalist at the Tasmanian Open, rallied past No. 10 seed Joel Arscott of New Zealand, 11-8, 11-4, 12-14, 11-9, to arrange a quarterfinal showdown with No. 8 seed Nicholas Calvert of Australia in the Professional Squash Association (PSA) Challenger Tour 5 event.
Calvert, who reached the semifinal of the Golden Open last June, coasted to an easy win over No. 12 seed William Donnelly of New Zealand, 11-5, 11-4, 11-1.
T. Chileshe outplayed No. 11 seed Chung Yat Long of Hong Kong, 11-5, 11-13, 11-2, 11-7, to advance against No. 14 seed Anthony Lepper of New Zealand.
Lepper, a quarterfinalist in three PSA Tour events in New Zealand this year, survived unseeded James Lloyd of Australia, 11-4, 9-11, 18-16, 7-11, 12-10 after 73 minutes of action at the Eastside Squash Centre.
"I am determined to win. I will do my best," said Garcia, who assured that his left thigh, which was accidentally hit by his opponent during their second-round match, is no longer hurting. "It was really painful after the match. But I applied ice on my thigh and this morning, I feel better."
Garcia arrived in Australia last August 14. He has competed in Costa North Coast Open in Coffs Harbour City (August 14-21), Alto Group Pennant Hills Open in Sydney (August 25-28) and the Volkswagen Open in Bega, New South Wales (August 31-September 4).
He had an early exit at the Costa North Coast Open, losing to Calvert, 11-13, 7-11, 11-9, 14-12, 11-13, in the first round.
In Sydney where he was the No. 4 seed, Garcia defeated Malaysian Amir Amirul, 11-7, 4-11, 11-5, 11-5 to book a quarterfinal ticket. But he lost to Dowling, 10-12, 5-11, 11-6, 8-11. At the Volkswagen Bega Open, Garcia bowed to Chung Yat Long, 7-11, 11-6, 11-7, 2-11, 9-11, in the first round.
Garcia reached the quarterfinal of the Dynam Cup SQ-Cube Open in Yokohama, Japan last May to register a career-best world No. 165 ranking. He also won the mixed team gold and men's singles silver medals during the 2019 Southeast Asian Games hosted by the Philippines. (PNA)