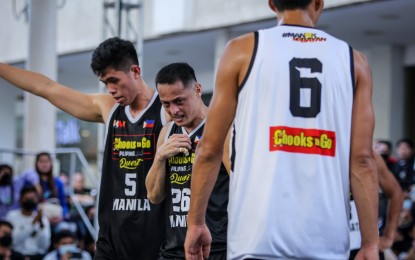 STA. ROSA, Laguna – Manila Chooks pulled off a giant slaying to clinch a spot in the semifinals of the Chooks-to-Go Pilipinas 3x3 Quest, stunning Ulaanbaatar, 21-20, in their second game in the pool stages at the Ayala Malls Solenad Activity Center on Friday.
Chico Lanete played hero anew for Manila, this time sinking the game-winning free throw with only 13.4 seconds left in the game as the Filipino squad, currently outside the Top 30 in the world club rankings, scored a major upset against the top 3x3 team in Asia and seventh in the world.
"Talagang pinagtrabahuhan namin 'yung panalo na 'yun (We really worked hard for that win)," said Lanete, who finished with four points for Manila.
Dave Ando also had four points as Henry Iloka led Manila anew with eight points and Dennis Santos had five.
Following a 21-15 win against Kuala Lumpur earlier in the day, Manila is now 2-0 in Pool A with its showdown against Zavkhan to finish its pool stage assignments ongoing as of posting.
Dulguun Enkhbat had nine points, Tsenguunbayar Gotov made seven, and Otgonjargal Tsogt and Delgernyam Davaasambuu each scored two for Ulaanbaatar, which will next face Kuala Lumpur to determine which team will join Manila in the semifinals for Pool A.
Kuala Lumpur kept its bid alive with a 13-12 shocker against Zavkhan.
Zhen Jie Tem made four points, while Anthony Liew, Gan Teck Hwa, and Ting Chun Hong each added three for Kuala Lumpur.
Enkhsaikhan Bayarsaikhan made six markers, Avirmed Lhagvaa put up three, Batzaya Tsermaa scored two, and Munkhtur Khureltogoo had one for Zavkhan, which was formally knocked out of playoff contention.
Saitama booked its own place in the semifinals with a 20-11 win against Zaisan that moved the Japanese squad up to 2-0 in Pool B action.
Saitama, led by Tokyo Olympian Tomoya Ochiai, earlier stunned world number 29 Cebu City Chooks, 13-11.
Cebu City Chooks somehow bounced back from the shock defeat but needed to evade another upset bid with a 21-19 win against Butuan Chooks to keep its own playoff hopes alive.
Cebu City pulled away in the end to break a 19-all tie to knock Butuan out of playoff contention.
Cebu City and Zaisan, also 1-1 in Pool B after a 22-7 rout against Butuan, will dispute the last semifinal seat later Friday.
The Scores:
First Game (Pool A)
Ulaanbaatar 22: Davaasambuu 10, Tsogt 7, Gotov 4, Enkhbat 1
Zavkhan 12: Bayarsaikhan 5, Lhagvaa 3, Tsermaa 2, Khureltogoo 2
Time: Delgernyam Davaasambuu - 2 (8:35)
Second Game (Pool B)
Saitama 13: Atanasov 7, Milakovic 4, Ozawa 1, Ochiai 1
Cebu 11: Tallo 6, Nzeusseu 4, Ramirez 1, Tolentino 0
Third Game (Pool A)
Manila 21: Iloka 10, Lanete 7, Ando 2, Santos 2
Kuala Lumpur 15: Ting 6, Zhen 4, Gan 3, Liew 2
Time: Chico Lanete - 2 (8:26)
Fourth Game (Pool B)
Zaisan 22: Myagmarsuren 10, Nyamdorj 7, Chuluunbaatar 4, Batsaikhan 1
Butuan 7: Strait 3, Eze 2, Cauilan 2, Catacutan 0
Time: Ulzii-Orshikh Myagmarsuren - 2 (6:25)
Fifth Game (Pool A)
Kuala Lumpur 13: Zhen 4, Liew 3, Gan 3, Ting 3
Zavkhan 12: Bayarsaikhan 6, Lhagvaa 3, Tsermaa 2, Khureltogoo 1
Sixth Game (Pool B)
Saitama 20: Milakovic 8, Atanasov 6, Ochiai 3, Ozawa 3
Zaisan 11: Myagmarsuren 6, Nyamdorj 4, Chuluunbaatar 1, Batsaikhan 0
Seventh Game (Pool A)
Manila 21: Iloka 8, Santos 5, Lanete 4, Ando 4
Ulaanbaatar 20: Enkhbat 9, Gotov 7, Davaasambuu 2, Tsogt 2
Time: Chico Lanete - free throw (9:46.6)
Eighth Game (Pool B)
Cebu 21: Ramirez 8, Nzeusseu 6, Tallo 6, Tolentino 1
Butuan 19: Strait 9, Cauilan 4, Catacutan 3, Eze 3
Time: Mike Nzeusseu - dunk (9:02.3) (PNA)