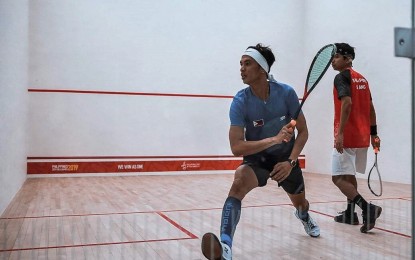 MANILA – No. 4 seed Filipino Robert Andrew Garcia lost his quarterfinal match to Elijah Thomas of New Zealand in the USD6,000 Eastside Open at the Eastside Squash Center in Hobart City, Australia on Friday night.
The country's No. 1 player put up a good fight but fell short, sending the Auckland native to the Final Four of the Professional Squash Association (PSA) Challenger Tour 5 event.
"Despite the loss, I think that I played well last night. There was a little problem because of the pain in my leg," he said after his 11-4, 10-12, 9-11, 9-11 setback.
Garcia hurt his left thigh during the match against Wailok To of Hong Kong on Thursday.
"I won the first set easily but I struggled after that. Since there was this pain in my leg, I had difficulty chasing his ball," he said, describing what happened during his 60-minute encounter with New Zealand's No. 6 player.
Thomas will face world No. 139 and second seed Robin Gadola of Switzerland, who beat No. 8 seed Nicholas Calvert of Australia, 9-11, 11-9, 11-6, 11-3.
Joining Thomas in the semifinal round is compatriot and No. 3 seed Temwa Chileshe, who scored an 11-6, 11-6, 11-4 victory over No. 14 seed Anthony Lepper.
Chileshe, the world No. 150, will meet No. 9 seed Bryan Lim Tze Kang of Malaysia, who won over No. 13 Matthew Lai of Hong Kong, 11-5, 8-11, 11-8, 11-6.
The Eastside Open was the fifth and last tournament for Garcia, who arrived in Australia on August 14.
He joined the Costa North Coast Open in Coffs Harbour City (August 14-21), Alto Group Pennant Hills Open in Sydney (August 25-28), Volkswagen Open in Bega, New South Wales (August 31-September 4), and Tasmanian Open (September 4-11).
He had an early exit at the Costa North Coast Open, losing to Calvert, 11-13, 7-11, 11-9, 14-12, 11-13, in the first round.
In Sydney where he was the No. 4 seed, Garcia defeated Amir Amirul of Malaysia, 11-7, 4-11, 11-5, 11-5 to book a quarterfinal ticket.
He, however, succumbed to Dowling, 10-12, 5-11, 11-6, 8-11.
At the Volkswagen Bega Open, Garcia bowed to Chung Yat Long of Hong Kong, 7-11, 11-6, 11-7, 2-11, 9-11, in the first round.
He had the same finish at the Tasmanian Open, losing to Addeen Idrakie of Malaysia, 8-11, 9-11, 9-11.
"So far, I learned so much from this Australian trip. I need to work on my game to become a better player," said Garcia, who will return to the country on September 19.
He will lead the national team in the Asian Team Championships in South Korea next month and the Southeast Asian Championships in Malaysia in December.
Garcia registered a career-high No. 165 ranking after reaching the quarterfinal round at the Dynam Cup SQ-Cube Open in Yokohama, Japan in May.
In 2019, he won the mixed team gold and men's singles silver medals during the Southeast Asian Games hosted by the Philippines. (PNA)