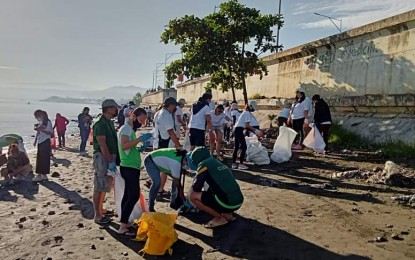 CAGAYAN DE ORO CITY – There are still a lot to be done to reduce plastic wastes along shorelines and in coastal communities here.
Based on the post-cleanup assessment of Barangay Bonbon chair Allan Mabalacad after the annual International Coastal Cleanup (ICC) Day that involved 13 villages over the weekend, there must be firm measures to minimize the accumulation of plastic waste.
"The village has (a significant number of) commercial beach areas, maybe the reason why they got more plastic bottle trash," he said in an interview.
Maria Judelyn Pueblos, one of the cleanup volunteers, said most of the retrieved trash were plastic bottles and wrappers.
The Cagayan de Oro City cleanup kicked off in Barangay Lapasan on Friday and was also participated in by coastal villages in Lapasan, Agusan, Bayabas, Bulua, Bugo, Cugman, Gusa, Macabalan, Puntod, Puerto, and Tablon.
The ICC Day aims to engage people around the world to remove trash and debris from beaches, waterways, and other water bodies.
It is celebrated every third Saturday of September as per Proclamation No. 470, series of 2003.
Environmentalists said the top five most commonly collected items during ICC days are cigarette butts, plastic beverage bottles, food wrappers, plastic bottle caps, and plastic straws.
"All are forms of plastic debris. The very qualities that make plastic an adaptable and durable product to use, also make it an environmental nightmare. Plastics do not biodegrade. Instead, they break down with exposure to weather and the sun's ultraviolet rays into smaller and smaller pieces. When these pieces infiltrate the environment, especially marine environments, they wreak havoc on wildlife and the ecosystem," according to a statement of international group Surfrider Foundation.
Although the Department of Environment and Natural Resources-Northern Mindanao has yet to submit data on the total volume of waste retrieved, volunteers and village officials said most of the trash collected were plastic materials.
Proclamation No. 244 in 1993 likewise designated the month of September every year as the National Cleanup Month and the 17th to the 23rd of the month yearly as the World Clean and Green Week.
The events aim to mobilize a massive voluntary action to support and complement the country's cleanup and environmental greening activities wherein garbage reduction, recycling, and composting, and the rehabilitation of waterways will be institutionalized by various sectors of society.
Massive formal and non-formal education on garbage management, pollution control, and the training of trainors, teachers, and youth leaders will be intensified each September, the order read. (PNA)