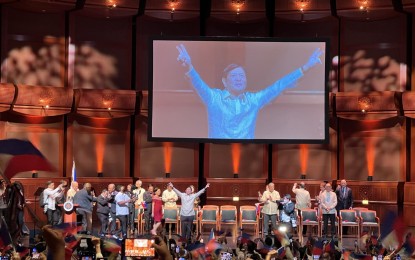 NEW JERSEY – Filipino workers from various parts of the United States went out of their way to personally give President Ferdinand "Bongbong" Marcos Jr. a warm and festive welcome at the start of his six-day working visit.
Over 1,200 US-based Filipinos traveled to the New Jersey Performing Arts Center on Sunday (Monday, Philippine time) to meet with President Marcos, many of whom came from far-flung states.
Among those who were eager to see the popular Chief Executive was Rolando Galara, a nurse, medical technician, and caregiver based in Irvine, California.
"We traveled from California to New Jersey because we love BBM (President Bongbong Marcos). We want to show to him our love and support," Galara said. "We wanted the President to feel our love for him. He felt it today here in New Jersey," she said.
Pennsylvania-based doctor Rommel Rivera, the president of the Association of Filipino Physicians in America, also attended the event since he did not want to miss the chance to meet and hear from President Marcos.
"We came from Philadelphia to witness the first coming of the President here in the United States. This is his first visit to the United States. Of course, I don't want to miss it," Rivera said.
"It makes me want to cry and there's a feeling of 'I wanna go back to the Philippines,'" he added.
Danny Pagsambugan, a Filipino engineer who has been working at the World Trade Center Port Authority of New York, said the President's heartfelt speech inspired him to return to the Philippines this year to share his expertise.
"Tell this to the President," he said. "I am going home."
Salute to Filipino heroism
The Filipino community was inspired by President Marcos's message, saying they were grateful that the President recognized their heroism during the pandemic.
"His speech is very inspiring. And I am very grateful that the President mentioned Filipino frontliners, nurses, and doctors like me," said Dr. Rivera.
"That is a reward from the President. It is his gift to us. Being recognized alone is already a gift to us Filipinos here in America," said Galara, who is also working as a medical technician and caregiver.
During his speech, Marcos acknowledged overseas Filipino workers for their contribution to the country's economic recovery, noting that their remittances account for 40 percent of the more than $3.4 billion remittances.
"We are watching all of you from afar and our hearts are overjoyed when we see what you do promote the Philippines to the whole world," he said in vernacular.
"We have over 10 million kababayans all over the world, and as your President, I understand and know fully well the significant impact of the Philippine diaspora on our motherland, especially in terms of supporting our post-pandemic economic recovery," Marcos added.
The President is in the US to speak before world leaders at the 77th United Nations General Assembly on Tuesday afternoon (Wednesday, Philippine time). (PR/With reports from Asec. JV Arcena)