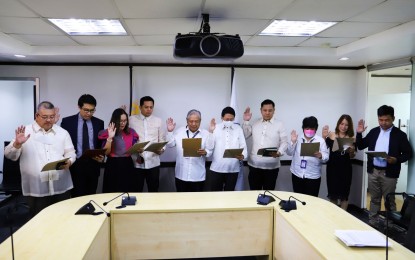 MANILA – President Ferdinand "Bongbong" Marcos Jr. has appointed several officials to the Department of Transportation (DOTr) and the Land Transportation Office (LTO).
In a Facebook post on Monday, the DOTr announced the appointment of Horatio Enrico Bona as the LTO Executive Director; Leonel Cray De Velez as DOTr Assistant Secretary for Planning and Project Development; Maria Paula Bautista Domingo as Assistant Secretary for Administration and Procurement; and Mark Steven Pastor as the Undersecretary for Road Transport and Infrastructure.
In addition, Jesus Nathaniel Martin Bermejo Gonzales was appointed as DOTr Assistant Secretary for Finance and Comptrollership; Ma. Marisa Malabag as Director III for Comptrollership Service; Zenaida Biteng as Director III for Procurement Management Service; and Joel Laguerta as Director III for Planning Service.
These officials took their oath Friday and were sworn into office by DOTr Secretary Jaime Bautista. (PNA)