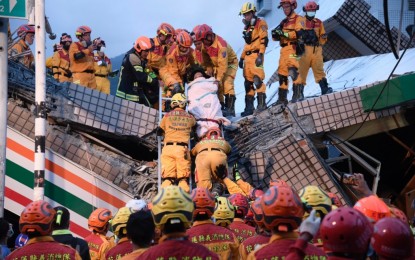 MANILA – The Department of Migrant Workers (DMW) quickly got in touch with overseas Filipino workers (OFWs) in Taiwan after Sunday's magnitude 6.8 earthquake.
DMW Secretary Susan Ople guaranteed the families of OFWs that she has instructed the Philippine Overseas Labor Office (POLO) and other officials to regularly report on the developments.
"I would like to assure our over 147,000 OFWs in Taiwan and their families that the DMW is ready to provide the needed assistance, particularly for those who have been affected by the earthquake," she said in a statement.
As of Monday noon, Ople said there are no reported Filipino casualty or damage to OFW worksites or dormitories, but tremors and aftershocks continue to be felt.
Ople is currently in the United States as part of the official delegation of President Ferdinand Marcos Jr. to the United Nations General Assembly in New York.
At around 2:44 p.m. on Sunday, a magnitude 6.8 earthquake struck 42.7 kilometers north of Taitung County Hall with a depth of 7 kilometers or 4.4 miles.
Intensity Level 6 was reported in Taitung County and Hualien County, which caused widespread damage.
Sunday's temblor is the largest quake to hit Taiwan so far over the last 48 hours, coming on the heels of a 5.9 magnitude quake at 1:19 p.m. and 6.4 magnitude quake on Saturday night, according to Taiwan News.
The Central Weather Bureau reported 147 aftershocks across the country until Monday morning.
So far, one death and 146 injuries have been reported, and about 500 people stranded in eastern Taiwan due to landslides.
Ople urged OFWs to listen to and heed the instructions given by manpower and other government agencies.
She also encouraged them to keep in constant communication with the Philippine government as well as with the Filipino community representatives.
The DMW said OFWs in Taiwan in need of assistance and information may contact the following POLO hotlines: In Taipei, mobile number +886 932 218 057, Facebook and Messenger account POLO Taipei - Complaints and Support for OFWs; in Taichung, mobile number +886 966 537 732, Facebook and Messenger account Meco Polo Taichung; and in Kaohsiung, mobile number +886 988 976 596, Facebook and Messenger account MECO Labor Center POLO / OWWA Kaohsiung. (PNA)